Greater Midwest Foodways Alliance
FAMILY HEIRLOOM RECIPES
Picnics and Family Reunions
Minnesota State Fair
August 17, 2014
Contestant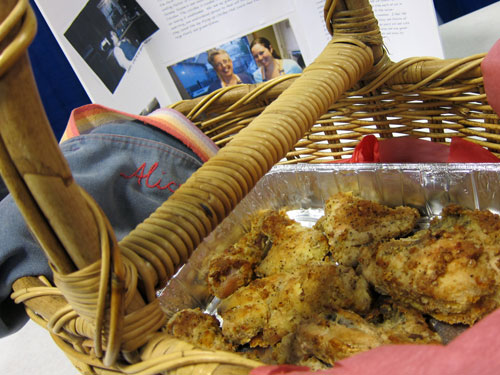 (Image by Peter Engler)
Granny Alice's Fried Chicken
Alice Seuffert,  St. Paul, Minnesota
knew Granny Alice well.  Some children grow up just get a glimpse into the matriarches of their families through annual trips.  That wasn't the case with Granny Alice.  Our summers were spent under her care; days were spent swimming in the backyard plastic pool, trips to the Salvation Army for stuffed animals, gardening, painting pinecones and eating.  Granny Alice was known for her ability to simultaneously fill your heart and belly.
As a child, Granny Alice grew up on a farm with 8 other siblings in Southern Minnesota.  She spent her adult life caring for her five children across the world, while grandpa served in the military.  When the family settled back to the U.S. after grandpa's time in the service, she started working as a lunch lady in the West St. Paul school district.  I believe her experience there strengthened her love of children and also influenced her plate-filling capabilities.
Uniting the family through her cooking was Granny Alice's specialty.  Her most known and loved recipe was her Fried Chicken.  The recipe originated with her mother Gertrude on the farm.  The recipe in Granny Alice's adult life became a uniting factor in her large and growing family.  Family holidays, Sunday suppers and reunions were centered around her Fried Chicken.  The chicken is cooked low and slow, no rushing nd no leaving it unattended.  Her and my grandpa would wear their matching jean embroidered aprons to fend off the grease while they spent the day frying up chicken that could feed their large family and grandchildren.
Our family all recalls fondly the family reunions together eating Granny's Fried Chicken and how we would assembly file into the kitchen to have our plates filled just like the lines that once formed in those cafeterias she worked at.  The mashed potatoes would lay like a soft bed for her chicken and the gravy would flow over everything, dropping off the plate and allowing you a quick taste as you licked your hand before you found your seat.
Granny Alice passed away on October 28, 1996 but our family continues to be brought together by that Fried Chicken she used to make.  My mother has carried on the tradition with our family and anytime she asks us what we would like her to cook it is always Fried Chicken.  Over time each of us in the family has made our own additions to the recipe – sometimes a new seasoned salt or even cinnamon.  I feel like that helps us be intertwined with the history and future of the recipe.  The basic recipe is at least 84 years old and with it has come five children, eleven grandchildren and nine great-grandchildren who have grown to appreciate and value its power of bringing our family together.
Alice Seuffert
(Proudly named after Granny Alice)
Granny Alice's Fried Chicken
Alice Seuffert,  St. Paul, Minnesota
Ingredients:
Cut Chicken (8 pieces)
4 eggs
1 cup Half and Half
3 cups Flour
3 TB of Coarse Ground Black Pepper
2 TB Seasoned Salt
1 1/2 sticks (12 TB) Butter
1/4 cup Vegetable Oil
Salt
Directions:
Preheat oven to 350.
Remove chicken from packaging and rinse with cold water. Pat dry with a paper towel. Trim excess fat from chicken but do not remove the skin. Remove wing tips by cutting last joint off wing and discard any loose pieces of bone. Set aside.
With a hand mixer beat eggs and Half and Half for 1 minute. Set aside.
Add flour, pepper and seasoned salt to a paper bag that has been doubled, shake to mix. Set aside.
Melt butter and vegetable oil over low heat. Butter is ready as soon as it liquefies. While butter is melting, dip 4 pieces of chicken in egg mixture and then drop pieces into paper bag. Shake for 10 seconds.
Remove chicken from bag and place in frying pan. Cook low and slow between 14­-16 minutes until chicken is light brown and butter is foaming. Flip to other side and cook for another 12 minutes until light brown. Remove chicken and place it in a 9×13 pan sprayed with nonstick spray. Repeat procedure for remaining 4 pieces.
Bake chicken at 350 for 1 hour. Flip pieces of chicken after 30 minutes. Season finished chicken with salt if desired.