Greater Midwest Foodways Alliance
FAMILY HEIRLOOM RECIPES
Picnics and Family Reunions
Indiana State Fair
August 7, 2014
Contestant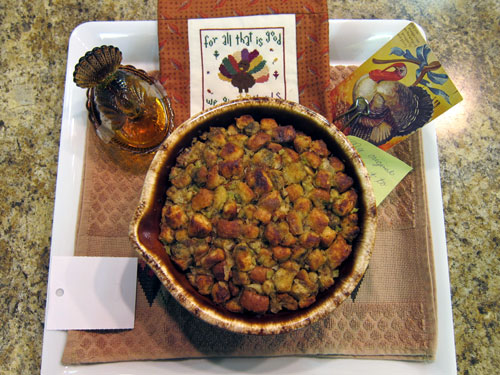 (Image by Peter Engler)
STUFFING … lt's not just for Thanksgiving anymore!
Eileen Beyer, Shelbyville, Indiana
This might seem like an odd recipe to make for a contest calling for recipes suitable for picnics and family reunions, so I will give you a little background to justify my submission.
My parents were married on Thanksgiving morning in 1950. In addition to baking a 3 tiered wedding cake, my grandmother hand made my mother an exquisite wedding gown of white satin with a sweetheart neckline and hand covered buttons running down the long sleeves. She also made an equally beautiful red satin gown for my aunt, who was the maid of honor and her only attendant. I have lovely pictures of this occasion.
Many people used to get married on or around Thanksgiving, as the holidays were a time when families were naturally together. My father had served 4 years in the Marine Corps during World War II and then attended St. Bonaventure University for 4 years. The story goes that my parents were to be married right around his graduation date of May 1951, but they kept moving up the date because they could not stand to be apart any longer. That November morning was a cold one in western New York State however, their wedding was beautiful. After a lovely brunch served at their reception, they left for Niagara Falls in the afternoon to begin their honeymoon.
And so they began their married life together. It was quite a journey, living in 5 different states throughout the years. My oldest sister was born in December of 1951 and my youngest sister was born in May of 1969. There are 18 years between the oldest child and the youngest child and 11 other siblings in between them. My parents were truly blessed with 13 children.
Throughout the years, our family did not have traditional family reunions as some families do with celebrations taking place during the summer months. Our extended family was scattered all over the United States from one coast to the other making travel costly and difficult. As a result, holidays, such as Thanksgiving and Christmas became the time of our family reunions. Thanksgiving always held special meaning in our family as it was the anniversary of our parents. The holiday provided an opportunity to catch up on events happening in each other's lives, to see new babies who had been born, and the best chance of all to enjoy a wonderful meal together. Regardless of the time of year, good food and good conversation are really what a reunion is all about.
My mother was of Swedish descent, being the first person in her family born in America.  My father was of French descent going back about 5 generations. As a result of my heritage, good food, good recipes, and good conversation about food were all very plentiful. If we weren't enjoying a delectable homemade recipe, we were talking about one.
I have very vivid memories of Thanksgiving morning (and the days before) of bread being dried on the kitchen table as well as the aroma of onions and celery sautéing over the stove top. Needless to say with all of the people in my family, the turkey was always LARGE and along with the STUFFING, the very traditional meal was accompanied by, mashed potatoes, corn, Brussel sprouts, cranberry sauce, and gravy.
The recipe I have made today is my mother's Turkey Stuffing. It was her mother's recipe which she prepared for her family when my mother was growing up. I refer to this as stuffing and not dressing because my mother ALWAYS stuffed the turkey. I have been making this recipe since my first Thanksgiving meal after I was married. I did stuff the turkey the first few times I prepared it, but in more recent years I have baked it in a separate dish. This method seems more appealing to my family as it allows a nice crust to brown over the top of the stuffing, as well as around the sides of the dish.
This is a simple recipe for stuffing which includes bread, celery, onion, butter, eggs, water and seasoning. Perhaps its mere simplicity is the reason it was so appealing to so many people. It is an old recipe and was always prepared during a time when were all back together again. Although traditionally a Thanksgiving dish, it does make a great accompaniment to a picnic or family reunion meal along with chicken, pork chops or even a roast.
Regardless of the time of year you choose to celebrate your family reunions, keep in d this simple, old recipe for STUFFING and remember. .. IT'S NOT JUST FOR THANKSGIVING ANYMORE!
STUFFING … lt's not just for Thanksgiving anymore!
Eileen Beyer, Shelbyville, Indiana
Here is my mother's very simple and delicious turkey stuffing recipe.
Turkey Stuffing
Ingredients
1 large loaf white bread (cubed)
1 large onion (chopped)
3 ribs celery including leaves (chopped)
1/2 cup butter (1 stick, melted)
1 cup cold water
2 eggs (beaten)
1 tablespoon poultry seasoning 1 teaspoon salt
1/2 teaspoon black pepper
Instructions
Cube white bread. Spread on cookie sheets and let dry on countertop for 1 or 2 days. Place dried cubed bread in large mixing bowl. On stovetop in large frying pan over medium heat, saute chopped onion and chopped celery in 1 stick of butter until soft. Cool slightly and add 1 cup cold water and 2 beaten eggs. Add poultry seasoning, salt and pepper. Pour over bread and mix thoroughly. Stuff the turkey (both ends) and bake according to the directions for the size turkey you are preparing. If you are in a hurry, you can dry out the bread in a 300 degree oven.
This is the way I prepare the stuffing today.
Instead of stuffing the turkey, transfer the stuffing to a large, generously buttered heatproof casserole dish. Bake at 350 degrees until browned.