Greater Midwest Foodways Alliance
FAMILY HEIRLOOM RECIPES
Picnics and Family Reunions
Illinois State Fair
August 8, 2014
Contestant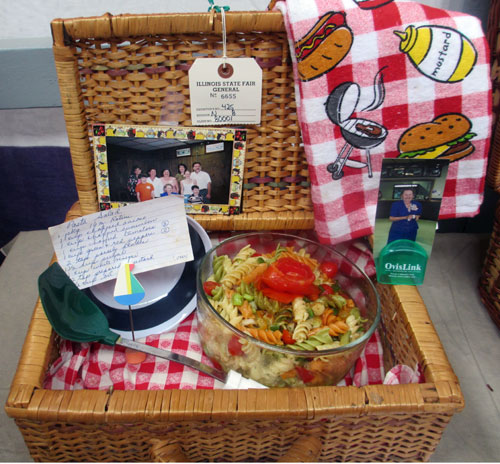 (Image by Catherine Lambrecht)
Ruth's Pasta Salad
Jackie Bales, Springfield, Illinois
When I saw the heirloom recipe competition for a recipe suitable for picnics or large gatherings I knew what recipe I wanted to enter. My husband's grandmother Ruth's Pasta Salad recipe. But I knew nothing of the history of the recipe. Grandma Ruth passed away a few years ago. So have my husband and mother in law. I can remember her making it and bringing to family reunions since the early 80's, but I had never asked her where she got the recipe. The recipe makes enough "to feed a regiment" as Grandma liked to say. She wrote it out on a recipe card for me which I still use whenever I make it.
In June, my daughter and I attended the wedding of my husband's uncle's daughter. Many of Grandma Ruth's children and grandchildren and even great grandchildren were in attendance. So I asked around to find out what they all knew of the history of the recipe. It was a blast hearing all the stories about Grandma Ruth and her recipe collection. I learned that Grandma Ruth took the Chicago Tribune for years just for the recipe columns. I remember her cutting out those recipes and transferring them to recipe cards. She had boxes and boxes of card files. Aunt Nancy says that her mother's pasta salad recipe started out as a "Macaroni Salad" recipe that her mom got from the newspaper during the depression. It originally had a mayonnaise based dressing and used elbow macaroni. The vegetables that are used in it depended on what was growing in the garden. The vegetable part really hasn't changed. In the 60's she found a "pasta salad" recipe that used a vinaigrette dressing. The 60's recipe did not include sugar but the original mayonnaise based dressing did. Grandma Ruth combined parts of the two recipes to create her pasta salad which is different than any other I have tasted because of the sugar ingredient. In the 80's the elbow macaroni was replaced with Rotini. I've use the tricolor Rotini for about 10 years. I also like to use yellow peppers in addition to the red and green for more color. I've probably been doing that since the mid 90's.
My quest for the history sparked a fun conversation at the wedding. Everyone talked about the different things they put in it. Someone always brings pasta salad to the family reunions. They all have Grandma Ruth's recipe and all use the sugar. As her children and grandchildren have fanned out throughout the country many have made their own mark on the recipe. Mostly because of what grows in their regions or is popular in the regions they now live. A granddaughter in Wisconsin adds Swiss cheese curds to hers. A granddaughter in California always puts in olives. A daughter in Alabama adds okra. My own daughter who lives in Arizona prefers to use a couple of hot peppers and cilantro in hers. Squash, zucchini, peas, chic peas and kidney beans were also mentioned as ingredients that have found their way into this family recipe. I think everyone agreed that they all started with the basic ingredient list listed on Grandma Ruth's recipe card which is the dish you're about to enjoy.
I often take this recipe to potlucks and am always asked for the recipe. While I can't call the sugar a "secret" ingredient (since I share the recipe); I can call it the "must have" ingredient that sets it apart from any plain ordinary pasta salad. Enjoy!
Ruth's Pasta Salad
Jackie Bales, Springfield, Illinois
1 pkg. 16 oz rotini
1 cup chopped onions
1 cup chopped cucumbers
1 cup chopped green peppers
1 cup chopped red peppers
1 cup chopped tomatoes
2 teaspoons parsley flakes
1 1/2 cup sugar
1 cup white vinegar
2 teaspoons prepared mustard
1/2 cup vegetable oil
1 teaspoon salt
1 teaspoon pepper
1 teaspoon garlic powder
Cook rotini till soft. Drain. Add onions, cucumbers, peppers, tomatoes and parsley flakes.
Mix sugar, vinegar, oil, mustard, salt, pepper and garlic powder. Pour over the rotini mix. For best flavor, chill in the refrigerator for 24 hours. Stir and serve.
The salad can be kept in the refrigerator for two weeks.