Greater Midwest Foodways Alliance
FAMILY HEIRLOOM RECIPES
Picnics and Family Reunions
Minnesota State Fair
August 17, 2014
Contestant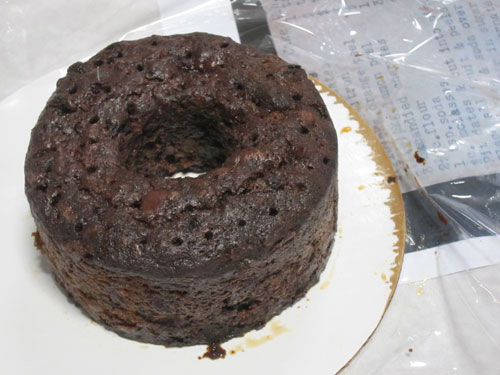 (Image by Peter Engler)
Old Fashioned Fruitcake
Dori Henderson, St. Paul, Minnesota
For me, the most meaningful reunion was my mother's family's annual Christmas gathering, held on the evening of Christmas Day at my Grandma Lindbeck's home White Bear Lake. Louise Lindbeck was the mother of 12, and grandmother to 42. The whole family came to Christmas at Grandma's – her children, their spouses, her grandchildren, and other relatives of the "shirt-tail" variety.
The house was small, and the party noisy, with most everyone standing around sharing life updates. We'd make many trips to the dining room or kitchen tables, where each family's contribution to the table – a signature dish, usually, was set out. There was Swedish rye bread for the ham sandwich platter (Grandma), apple squares (Aunt Harriet), German potato salad (Aunt Lou), orange fluff (Aunt Lois), rosettes (Aunt Margaret), sliced fruit (Aunt Claire), a tray of sandbakkel, spritz, and other Scandinavian cookies (Aunt Louann) are a few I remember.
My mother brought the fruitcake. It was my grandmother's recipe, who had made it for the holiday gathering when her kids were young. At some point in time my mother took over the job of making it for the Christmas gathering. It was dark, raison-y, with more cake and less candied peel than I seen in store bought cakes. She made two or three 4 lb batches each year, starting just after Thanksgiving. She used a couple of large loaf pans lined with paper from grocery sacks. She'd soak them in wine, then cut the loaves down to thirds or quarters (keeping the brown paper on), wrap them tight in wax paper and tie them with ribbon. Those bundles would sit in her cupboard "to age" until she needed a hostess gift or a contribution for someone's holiday table.
My mother modified her mother's recipe a bit – for as long as I remember, she used a lib of packaged "fancy" candied peel, rather than the add separate amounts of candied citron, orange and lemon peel. I'm sure she did that out of convenience. She also added the step of soaking it in wine. That was how I made it – until this Minnesota State Fair competition. When I set about to make the recipe several weeks ago, , didn't realize that candied peel is a seasonal item. I couldn't find it anywhere, and there was not time to order it. So, I candied my own peel for the first time. I used the peels of grapefruit (which seemed like a good substitute for citron, with its thick pith), orange, lemon and lime peel, and followed a recipe that I found online. It is a lot of work, but I liked it so well, that I think I'm going to make this version in the fall, right after Thanksgiving, when it is time to make the Christmas fruitcake again.
The annual Christmas party as we knew it came to an end with my grandmother's death 1997 (when she was 97). Still, my mother continued to make fruitcake, giving it away as gifts, and bringing it to other holiday gatherings. That went on for some time, though she began to need some help with the planning and baking of the fruitcake – and we began to bake it together then. When my mother wasn't able to cook or bake any longer, I thought I would take up the tradition, mostly so that she could have it at the holidays. It was not my favorite as a kid, however, it has grown on me, and I now love it. And, when I make it to bring to my family holiday gatherings, I enjoy that it makes me remember my mother, my grandmother, and the lovely annual reunion of the whole of my mother's family on the evening of Christmas Day. I imagine that my mother liked making her fruitcake for that reason, too. Perhaps my 12 year old daughter, who doesn't have much of a taste for fruitcake (yet), might grow up to share this recipe at her own family reunions.
Old Fashioned Fruitcake
Dori Henderson, St. Paul, Minnesota
1 lb raisons
10 oz pitted dates
1 lb candied citrus peel (grapefruit, orange, lemon and limes – see additional recipe)
1/4 lb candied cherries
2 1/4 cups all purpose flour
1 tsp soda
1/2 cup molasses
1 tsp cinnamon
1/2 tsp allspice
1/2 tsp nutmeg
1/4 tsp cloves
1/2 cup butter
1 cup brown sugar
3 eggs
1/2 cup cold coffee
Hearty red wine
Instructions
Cut the dates into thirds, halve the cherries. Place all fruit and peel in a bowl, sift the flour, salt, spices & soda over fruit and mix with fingers. Using a second bowl and mixer, Cream the butter. Add the sugar to the butter gradually and beat until light and fluffy. Add eggs, one at a time, to butter and sugar mix, and mix well after each. Using a wooden spoon or spatula to stir, add the flour, molasses and coffee alternately (two rounds of additions). Pour batter into 4 – 6 small paper loaf or bundt shaped pans (grease these pans a head oftime). Bake for approximately 1 hour in a slow (275 F) oven, until toothpick inserted into cake comes out clean. When the cakes have cooled, use a wooden skewer to poke holes in the cake, 1 -1.5 inches apart. Then pour wine over the cake (2-4 tablespoons), letting it seep in. Wrap in waxed paper and store in fridge. In a day or two, unwrap the cakes and pour wine over the cakes again. Rewrap the loaves and store in the refrigerator for 3-4 weeks before serving.
Recipe for Candied fruit peel- adapted from: http://allrecipes.com/howto/candying-fruits/ I used the peels from 4 grapefruits, 4 oranges, 5 limes and 5 lemons.
How to Candy Fruits
Delicious in cakes, cookies, for garnishes, or dipped in chocolate, candled fruit is worth the effort.
Candying fruit is the relatively simple process of infusing fruits or citrus peels in a sugar syrup. Grapefruit peel, kumquats, orange and lemon rind, fresh cherries, and pineapple are all good choices for candying. But you don't have to stop with fruit: slivers of candied carrot make a wonderful garnish for carrot cakes.
1. You will need a saucepan for Simple Syrup and one for blanching the fruit. We chose to candy orange peel, which we later chopped and added to a recipe for Chocolate-Dipped Orange Biscotti.
Remove the top and bottom from the orange .
• Making Simple Syrup
• Simple Syrup
2. Set the flat end of the orange on a cutting board. Using a sharp paring knife, slice off the peel, following the curve of the orange as best you can. Avoid cutting into the flesh of the fruit. It is okay to keep the bitter white pith attached to the rind: the bitterness is tamed by blanching, and the pith becomes translucent and sweet during the candying process.
3. You can either candy the peel as is, for chopping and adding to a recipe, or you can slice it into even strips, about 'A-inch wide, for a more elegant presentation. (Chocolate-dipped candied orange peel is a treat, and is excellent for gift-giving.) Large peels, such as grapefruit, should be cut into smaller strips for faster, more even cooking.
4. Put the peel into a pot of cool, fresh water. Bring it to a rolling boil. Immediately transfer the fruit to a colander to drain. Repeat, bringing the peel and fresh water to a full boil. For oranges or other sweet-skinned citrus, such as Meyer lemons, you might only need one to three blanchings. For grapefruit, you might need seven or eight. (Cherries and pineapple chunks can go straight to the pot of simple syrup.) Taste the blanched peel: is it tender? Transfer the drained peel to the pot of warm simple syrup. Bring the syrup to a very low simmer.
5. Simmer for IS to 30 minutes, depending upon the size of your slices, until the orange rinds become translucent and the peel tastes sweet and tender.
6. Remove the pot from the heat and allow it to cool. The orange rind can be chopped and used in recipes, stored in the refrigerator for weeks in its sugar syrup, or drained and rolled in sugar. Sugared orange rinds wili dry out quickly, however, so eat them within a day or two. To keep them fresher longer, dip the drained slices of peel in tempered chocolate.
Recipes for candied citrus peels:
Sweet Candied Orange and Lemon Peel
Candied Citrus Peel
Sugary Orange Peel