Greater Midwest Foodways Alliance
FAMILY HEIRLOOM RECIPES
Indiana State Fair
August 11, 2016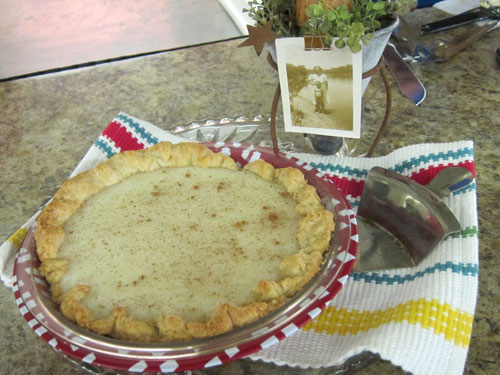 (Image Peter Engler)
Contestant
Eva's Sugar Cream Pie
Betty Huddleston, Liberty, Indiana
I'M SO EXCITED TO BE ABLE TO SHARE A BRIEF GLIMPSE INTO OUR FAMILY HISTORY OF THIS RECIPE: EVA'S SUGAR CREAM PIE
THE STORY THAT WAS RELATED TO ME WAS EVA (WOLFE) REVALEE MY MOTHER­IN-LAWS GRANDMOTHER ON HER FATHER'S SIDE WAS WHERE THIS RECIPE ORGINATED FROM, JUDY (REVALEE) HUDDLESTON WAS BORN ON NOV. 22,1942. IN CONNERSVILLE, IN EVA TOOK CARE OF JUDY TILL SHE WAS AROUND THE AGE OF 8 OR 9, HER FA THER WAS IN THE MILITARY, IT IS KIND OF HAZY WHERE MOM WAS. I KNOW JUDY LOVED HER GRANDMOTHER VERY MUCH. SHE TOLD ME WHEN I FIRST MARRIED HER SON, THAT HER GRANDMOTHER TAUGHT HER TO MAKE THIS PIE, IT WAS ONE OF THE FIRST THINGS SHE LEARNED TO MAKE, IT'S A SIMPLE RECIPE FROM A SIMPLE TIME, BOY IS IT DELICIOUS
OUR FAMILY HAS HAD THIS PIE MANY,MANY TIMES OVER THE LAST 36 YEARS, SINCE I HAVE BEEN IN THE FAMILY. FAMILY DINNERS, COOKOUTS, AND JUST WHEN, HEY I MADE A SUGAR CREAM PIE TODAY, DO YOU WANT A PIECE?
I NEVER MET MY MOTHER-IN-LAWS GRANDMOTHER, DAD OR STEPMOM THEY HAD ALL PASSED AWAY BEFORE I CAME INTO THE FAMILY.
MY MOTHER-IN-LAW HAS PASSED AWAY ALSO SEVERAL YEARS AGO, SOME OF MY FONDEST MEMORIES ARE THE COOKOUTS, FAMILY DINNERS, AND JUST SITTING AT THE TABLE WHERE WE WOULD LAUGH AT STORIES AND SHARE GREAT FOOD TOGETHER.
PIE CRUST MAKER I'M NOT, THEY NEVER TURN OUT RIGHT, I USALLY BUY MY CRUST OUT OF THE PIE CRUST SECTION OF THE STORE.
I HAVE GIVEN THIS RECIPE TO SEVERAL FRIENDS/F AMIL Y MEMBERS OVER THE YEARS, AND THEY HAVE SINCE; PASSED IT ALONG TO FAMILY AND FRIENDS, SO EVA'S (JUDY'S) RECIPE IS STILL GOING STRONG AND IS ENJOYED TODAY AS IT WAS 60 PLUS YEARS AGO.
Contestant
Eva's Sugar Cream Pie
Betty Huddleston, Liberty, Indiana
1 CUP SUGAR
1/2 CUP CORN STARCH
2 CUP MILK ( DON'T USE 1% OR FAT FREE)
1 STICK BUTTER
1 TEASPOON VANILLA
MIX TOGETHER SUGAR AND CORN STARCH, IN A MED SIZE HEAVY BOTTOM PAN, OVER MED HEAT, MIX TOGETHER EVERYTHING BUT VANILLA STIRRING TO MIX EVERYTHING TOGETHER, STIR CONSTANTLY fOR ABOUT 10 TO 15 MIN, IT WILL BE THE CONSISTENCY Of THICK PUDDING, MAKE SURE TO STIR CONSTANTLY AT THE END OR IT WILL STICK TO THE PAN AND BURN. TAKE OFF HEAT ADD VANILLA, STIR TO MIX IN VANILLA AND POUR INTO A 9 IN BAKED PIE CRUST
SPRINKLE WITH NUTMEG AND CINN. CHILL IN REfRIGERATOR, CUT WHEN COOL.
PIE CRUST (IS A PIE CRUST I USED)
1 1/2 CUP FLOUR
1/4 TEASPOON SEA SALT
10 TABLESPOON UNSALTED BUTTER (EXTRA COOL) CUBED
2 TO 4 TABLESPOON ICE WATER
IN FOOD PROCESSOR, PULSE FLOUR AND BUTTER TOGETHER TILL BUTTER IS PEA SIZE. ADD BY TABLESPOON ONE AT A TIME, WATER TILL DOUGH HOLDS SHAPE. PLACE DOUGH BETWEEN PARCHMENT OR FILM WRAP AND SHAPE INTO A DISC. BEST IF REFRIGERATED AT LEAST 1 HOUR UP TO 2 DAYS. DOUGH CAN BE FROZEN If WRAP TIGHTLY.
ROLL OUT DOUGH, PUT IN PIE DISH, PLACE PARCHMENT PAPER IN BOTTOM Of PIE DOUGH AND USE BEANS OR PIE WEIGHTS.
BAKE AT 425 fOR 15, COVER EDGES Of PIE WITH fOIL TO KEEP IT FROM GETTING TO DARK, REMOVE PIE WEIGHTS AND BAKE FOR 5 TO 7 MIN LONGER TILL GOLDEN BROWN. COOL ON RACK BEfORE ADDING FILLING.
THIS MAKES 1 -9 IN PIE CRUST
NOTE: CAN USE PRE-MADE PIE DOUGH
NOTE: SUGAR CREAM PIE FILLING CAN BE USED AS CUSTARD, JUST PLACE IN DISHES.