Greater Midwest Foodways Alliance
FAMILY HEIRLOOM RECIPES
Picnics and Family Reunions
Illinois State Fair
August 8, 2014
Contestant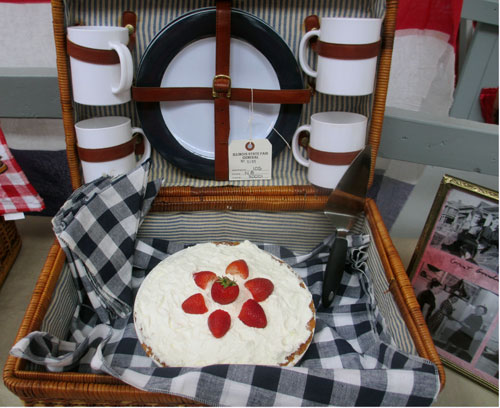 (Image by Catherine Lambrecht)
Best Strawberry Pie Ever
Kitsy Amrhein, Springfield, Illinois
My great-grandmother made a good strawberry pie. She made her crust with lard, flour and sugar. She taught my grandmother to cook. My grandmother made a better strawberry pie than my great­grandmother. She made her crust with butter, flour and sugar. They both used the same ingredients in the filling. My grandmother gave the recipe to her daughter in law who was my mother. That was when she married my father in 1952. My mother made a great strawberry pie!
My mother used the same recipe but did something different when cleaning the strawberries. My mother was raised by her grandmother who taught her to cook. Her grandmother had taught her to remove the center core from strawberries when you clean them. So that is the way my mother cleaned the strawberries. My grandmother and great-grandmother just cut off the tops when cleaning the strawberries. By removing the core of the strawberries, it gives the pie a smoother texture. It might be my imagination, but the flavor seems better too. I guess the strawberry cores take away from the natural sweetness of the berries.
My mother experimented with margarine instead of butter and Cool Whip instead of the whipped cream. She also used a ready made frozen crust from time to time. All those different variations made a good pie but not a great pie.
I learned to cook from both my grandmother and mother. I make the strawberry pie with the real crust and real whipped cream. I always clean the strawberries the way my mother taught me. Just like her grandmother taught her. No cores. I have taken my strawberry pie to many pot lucks and picnics. I've been told on several occasions that it is the best strawberry pie ever.
I love strawberry pie. It is my favorite pie. I have ordered strawberry pie in restaurants supposedly known for their wonderful strawberry pie. I have been served strawberry pie at picnics and dinner parties. None has every been as good as the strawberry pie my mother made with that little variation from the recipe my grandmother gave her when she was fIrst married. I'm proud to say it really is the best strawberry pie ever.
Try a sample and see if you agree
Best Strawberry Pie Ever
Kitsy Amrhein, Springfield, Illinois
Crust:
1 cup flour
1/2 cup melted butter
3 tablespoons sugar
Pinch of salt
Preheat oven to 400 degrees.
Mix flour, sugar and salt. Add melted butter. Stir. Press into a 9 inch pie plate. Bake 8-10 minutes until golden brown. Remove from oven and let cool.
Filling:
1 quart strawberries
1 cup sugar
1 cup water
2 tablespoons cornstarch
Mix sugar and cornstarch. Add water and stir till smooth. Add 1 cup cleaned strawberries. Cook over medium heat, stirring occasionally until thick and clear. Mixture will be a bright red. Cool for 15 minutes. Add 3/4 cup strawberries. Pour into prepared pie crust. Chill for 3 hours.
Topping:
1 pint heavy cream
1/2 cup powdered sugar
1 teaspoon vanilla
Whip cream till it forms peaks. Fold in powdered sugar and vanilla. Spread over pie.
Garnish with sliced strawberries.
Enjoy