Greater Midwest Foodways Alliance
FAMILY HEIRLOOM RECIPES
Picnics and Family Reunions
Missouri State Fair
August 9, 2014
Contestant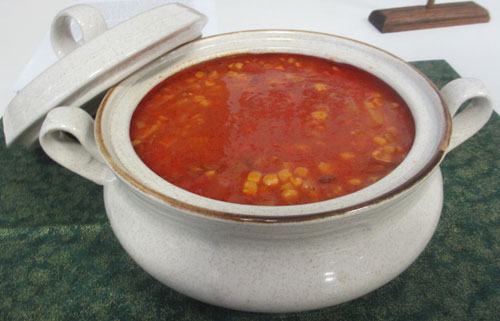 (Image by Catherine Lambrecht)
Mamaw's Com Chowder
Harlan, La Monte, MO
Corn chowder has been a family favorite for years. It is a simple recipe with great flavor, and can be expanded to feed many mouths without spending a lot of money. Gatherings for my family are events where no one knows how many people are coming over until it's over. To account for this, the recipes served at reunions are easily and quickly expandable. Corn chowder falls into this category by using par boiled potatoes, as more people showed up more potatoes are cooked and added to the chowder, another can of tomatoes or corn could be added if a lot of people showed up. This dish is one that can be prepared entirely out of the cellar. Historically farm families have canned any vegetable in season for use in the winter; my family definitely fell into this category. Sweet corn and tomatoes were canned in late summer as the harvest produced more than could be used. Potatoes were dug and stored in a root cellar where they would keep for months. Onions were dried and stored in the cellar. Hogs were butchered and the bacon was cured to preserve it. All of these items were available from mid-fall to mid-spring due to the storage methods. This allowed a simple dish like corn chowder to become a staple in the cool weather diets of my farm family.
I inherited this recipe from my great grandmother, Mamaw Hayes, via my grandmother, Nana. My dad tells stories from his childhood, 45 or 50 years ago, of Mamaw always cooking corn chowder when all of her grand children were over because she could be feeding ten to fifteen people. Nana remembers her mother fixing this especially when her father would come in early during the cold months. Her father would not complain about supper being late if he knew it was being prepared, meaning he could smell onions or bacon being cooked. This allowed Mamaw to quickly prepare supper and keep her husband happy after long days of farm work during the end of the great depression. I was born before Mamaw passed but not long enough to remember her, this is one thing I can hold onto to provide a physical connection with her and my family history.
Mamaw's Com Chowder
Harlan, La Monte, MO
2 quarts canned tomatoes
1 lb bacon
1 large onion, chopped in 1/2 inch pieces
4 large potatoes, peeled and chopped in 1/2 inch pieces
4 pints of canned com
Salt and pepper to taste (~1 t. each)
Boil the potatoes until fork tender. Drain.
Chop bacon into 1/2 inch pieces. Fry in a large pot. When bacon is crisp, add the onions. Cook onions until translucent, about 5 minutes. Add the potatoes, the com- including the canning liquid, salt and pepper and the tomatoes. Simmer for 10 minutes.