Greater Midwest Foodways Alliance
FAMILY HEIRLOOM RECIPES
Picnics and Family Reunions
Minnesota State Fair
August 17, 2014
Contestant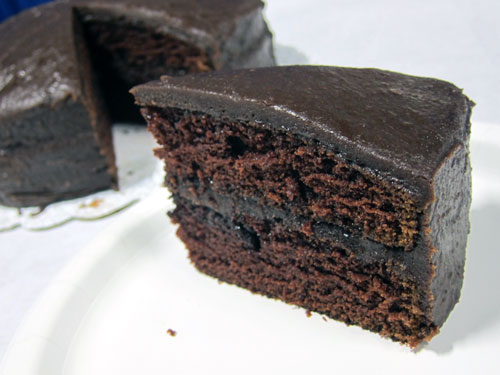 (Image by Peter Engler)
Devil's Food Cake with Chocolate Frosting
Ruthie Gearhart, White Bear Lake, Minnesota
When I married my husband 25 years ago, I was introduced to his mother's famous Devil's food cake with chocolate frosting. Although I was not a fan of chocolate cake, I was nothing if not respectful so when it was first served to me, I politely tried it. Then I tried it again. Then I asked if I could have a piece to take home. Each year for their birthdays, my husband and his three siblings would request the chocolate cake, and soon, I did, too. When I initially asked about the recipe, my mother-in-law said it was a family secret and therefore was not inclined to share it with me, but after her youngest son and I celebrated our 15th wedding anniversary, she gave me the recipe. I kept in a recipe box until her death in 2008. Two years later, my father-in-law also passed away and as we cleaned out the house, we found an old, tattered, yellow, hand-written recipe book and on the front page was the Devil's food cake recipe. My husband later told me that the recipe book dated back to the 1930's and that his Aunt Eva had given it to her sister (my mother-in-Iaw's mother), who eventually gave it to my mother-in-law, Jean. When Jean trusted me with this recipe, I felt honored to have it. In 2011, I made it for my brother-in-law for his birthday and was visibly appreciative of my efforts. In my mother-in-Iaw's family's name, I now carry this tradition with me and made it this year for my 17 year old son on his birthday at his request. I think of her every time I make it and know that she and her Aunt Eva would be proud.
Devil's Food Cake with Chocolate Frosting
Ruthie Gearhart, White Bear Lake, Minnesota
Cake:
2 cups flour
6 Tblsp cocoa
2 tsp baking soda
1 tsp salt
2 cups sugar
2 beaten eggs
2 Tblsp butter
1 cup buttermilk
2 tsp vanilla
1 cup boiling water
Frostinq:
2 cups sugar
1/2 cup butter
1/2 cup cream
1/2 cup cocoa
Pre-heat oven to 350 degrees. In large bowl combine flour, cocoa, baking soda and salt. In another bowl, combine sugar and butter until smooth. Add eggs, buttermilk and vanilla. Add wet ingredients to bowl of dry ingredients and stir until combined. Add boiling water and stir until well integrated. Pour into two greased 8X8 baking pans and bake for 35 minutes. When cooled, frost one layer, then place second layer on top and use remaining frosting.