Greater Midwest Foodways Alliance
FAMILY HEIRLOOM RECIPES
Picnics and Family Reunions
Indiana State Fair
August 7, 2014
Contestant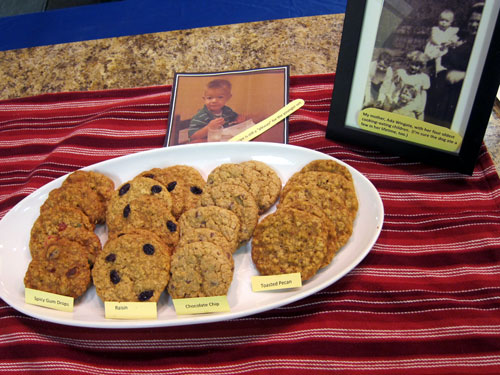 (Image by Peter Engler)
A Cookie Shared through the Decades
Deborah Green, Fortville, Indiana
Inside my recipe chest (Yes, I actually have a trunk full of recipes besides the ones on my computer), I have to cherished scrapbooks filled with aging recipes that my mother clipped from magazines and newspapers during the 1940's and early 50's. I love to carefully peruse these recipes and especially love to read her written comments about the ones that she tried. Her favorites were often shared with my aunts, who were also early "foodies".
One recipe that I never have to look up to prepare is Six-in-One Oatmeal Cookies.  These were a "standard" in our household. There were five children in our family and just about everything we ate was grown, cooked, baked, or preserved by our hardworking Mother. I'm sure that the fact that this recipe yielded 6 dozen cookies; contributed to our making them so frequently. They were shared when company stopped by; they were offered to us as treats and were often sent in our lunch boxes to school.
A special feature was the list of six optional ingredients that you could add to the recipe. Of course, chocolate chips were a favorite, but we also like the spicy flavor that gum drops added. My sister brought these cookies to our last Christmas celebration; her add-in was chopped dates. In a recent conversation with my last surviving aunt, she talked about her daughter making "the" oatmeal cookie recipe.
Just for fun I googled Six-in-One Oatmeal Cookies.  I came up with three hits on recipe sites. Two ofthem referred to it as Grandma's recipe. So there were others who clipped this recipe and have passed it down through the generations..
I enjoy making this recipe for family and friends and especially for the children in my child care home. And of course, they want theirs with chocolate chipsl
A Cookie Shared through the Decades
Deborah Green, Fortville, Indiana
Six- in-One Oatmeal Cookies
1 cup Shortening
1 cup Brown Sugar
1 cup Sugar
2 Eggs
1 teaspoon Vanilla
1 1/2 cups Flour
1 teaspoon Salt
1 teaspoon baking soda
3 cups Quick-Cooking oats
Choice of one:
1/2 cup Chopped nuts
1 package Chocolate chips
1 cup cut-up gumdrops
2 TBS Orange peel
1 cup raisins
1 cup chopped dates
Cream shortening and sugars thoroughly. Add eggs and vanilla and beat well. Sift together flour, salt and soda and add to the creamed mixture blending well. Add oats and the ingredient of choice. Form dough into small balls or drop from a teaspoon on to an ungreased cookie sheet Bake at 350 degrees about 15 minutes or until lightly browned. Remove from cookie sheet and place on a wire rack to cool.