Greater Midwest Foodways Alliance
FAMILY HEIRLOOM RECIPES
Indiana State Fair
August 9, 2013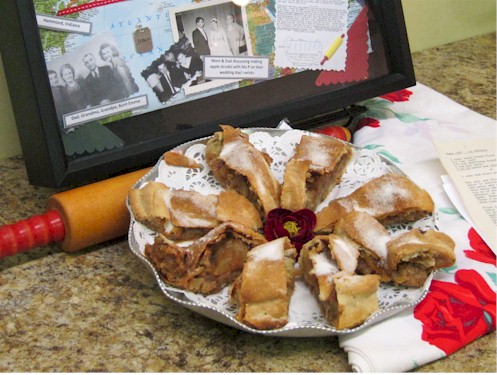 (Image by Peter Engler)
Contestant:
Ma P's Apple Strudel Legacy
Ellen Pericak Schmidt, Indianapolis, Indiana
The Journey
My Grandma, Theresa Drzich Pericak, came to the United States around 1920 from Slovenia, where she was born on February 18th 1897. Her mother died at an earlier age, so Grandma had to take care of her family and do all the cooking and cleaning. She was eager to leave her village and explore the world. So in her early 20s, she found passage to America and came to the States by ship – all alone.
Theresa & Siava
She came through Elis Island, stayed a while in Pennsylvania working in a hotel/boarding house doing the cooking, and finally made her way to Indiana – specifically Hammond, Indiana. It was in Hammond she met my Grandpa, Siava Pericak, who had emigrated from Croatia and made his way to Hammond a few years before my Grandma. They met in a restaurant where Grandma was working and doing the cooking! The moment my Grandpa walked in the place – she knew he was the man for her. My Grandma was very modern in her day; a very persuasive and strong woman. She asked my Grandpa to marry her¬ – even bought him his wedding suit!
My grandparents began their life together in Hammond and soon had children, my Dad, Adolph, born July 21st 1925, and his sister, my Aunt Emma, born January 20th a few years later. My Grandma didn't work and never learned how to drive a car but she cared for her family well – especially doing the cooking! My Dad really enjoyed my Grandma's baked goods and particularly her apple strudel. He would tell me he knew the moment he walked into the house that she had made her strudel that day. He would savor many pieces of it in one sitting! He especially enjoyed it when he returned home from WWII.
Adolph & Dolores
My Mom, Dolores, watched my Grandma, whom she called Ma P make the strudel shortly after marrying my Dad on November 8th 1958. Mom wanted to recreate it for my Dad so that he could enjoy it as he did growing up. My Mom hand-wrote the strudel recipe while she watched my Grandma make it and then she typed it on a typewriter. My Grandma never had the recipe written down – it was in her head-as were most of her recipes. My Mom's original typed recipe of my Grandma's apple strudel recipe is a part of this Heirloom exhibit.
Ellen & the Strudel Legacy
I came along on November 6th 1959 and had the pleasure of enjoying both my Grandma's and Mom's version of the strudel growing up. I watched my Grandma make her strudel (we lived right next door) and have fond memories of her rolling and stretching the dough until it hung off the sides of her kitchen table, never once tearing! I inherited the rolling pin and 'pastry' cloth (a printed table cloth) she used and which I still use today. They are a part of my exhibit. It was my destiny to make this strudel.
My Grandma made her strudel a lot throughout the year but always at Thanksgiving. Whatever the occasion, she served it on a silver serving tray which I've inherited and can also be seen in this exhibit. Shortly after my Grandma died in August 1984, I started making her strudel recipe, using my Mom's typed version. I've made the strudel almost 30 years now, using my Grandma's rolling pin, pastry cloth, and silver tray. Mom and Dad are both gone but my Aunt Emma still requests I bring the strudel on the silver tray at Thanksgiving. And every year I do so with family pride and love.
Contestant:
Ma P's Apple Strudel Legacy
Ellen Pericak Schmidt, Indianapolis, Indiana
For Filling:
7-10, pared and sliced thick, apples, preferably Jonathan
For Dough:
3 cups sifted all-purpose flour
1/2 teaspoon salt
1/3 cup Crisco shortening – melted
1 cup hot water
For Assembly:
1 1/4 cups granulated sugar
1-2 teaspoons cinnamon
3/4 stick unsalted butter plus 1 tablespoon shortening, melted and hot
1-2 cups white bread crumbs, cut thick and chunky
2-4 tablespoons unsalted butter melted
For Filling:
Peel and remove apple skins from apples; cut into thick slices. Rinse apple slices and let drain in colander as you prepare the apple strudel dough.
For Dough:
Mix salt and flour. Melt shortening and place in measuring cup. Add I cup hot water to shortening. Cool to lukewarm. (If water is too hot – dough will break). Add water and shortening mixture a little at a time to the flour and salt mixture, mixing with a spoon. (A little more water may have to be added to make dough soft). Work dough in bowl or countertop as if bouncing a ball. Pull it up and slap it down, again and again for 10 minutes or 150-200 times, or until dough no longer sticks to countertop or your hand. Knead a few times and shape into a ball. Place ball into a bowl drizzling 1 teaspoon oil (not olive oil) over the dough. Turn several times to coat the dough with oil. Cover bowl with a dish towel, place in oven or warm area in the kitchen and let rest for 11/2 hours.
For Assemblv:
Flour a pastry cloth well. Place dough on cloth and roll with a floured rolling pin until quite large. Stretch dough with knuckles to one corner of the table first and then keep stretching to all corners. Tear off thick ends and let dry on the table for approximately 5 minutes. Place apples on one end of the pastry only. Sprinkle 1 1/4 cups sugar and a little cinnamon over the apples. Spoon hot butter/shortening over the apples and the dough where there are no apples. Then brown the bread crumbs with the butter in a small frying pan until moist. Sprinkle the browned bread crumbs over the apples. Place shorter end of dough over the apples and start to roll by lifting and pulling the cloth. Pinch ends of strudel and place on a greased and floured pan seam-side down. Brush top and sides of strudel with melted butter. Place in a pre-heated 4000 oven for 50 minutes or until golden and apples are cooked through. Cool, sprinkle with granulated sugar (optional), cut, and enjoy!
Makes one large strudel.