Greater Midwest Foodways Alliance
FAMILY HEIRLOOM RECIPES
Picnics and Family Reunions
Illinois State Fair
August 8, 2014
Contestant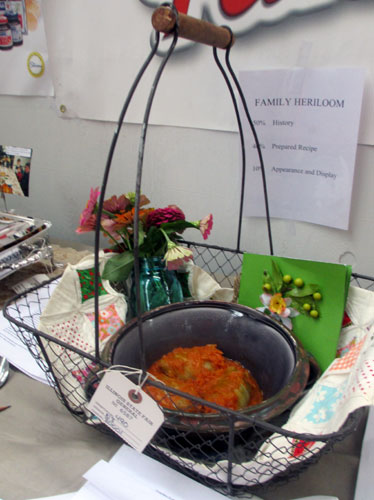 (Image by Catherine Lambrecht)
Grandma Guth's Stuffed Cabbage Rolls with Sauerkraut
Denise Bollman, Springfield, Illinois
My great grandparents, Josephine and Frank Miller came to the United States in 1905. They had two children, my grandmother Carmellia, age 5 and her brother Carl, age 7.
When they arrived at Ellis Island and my great grandfather began looking for work, they moved to Pennsylvania where he first worked in the coke yards at the coal mine. The work was hard and dirty, with little pay. He eventually got a job with the Pennsylvania & Lake Erie Railroad. Although the pay was better and the work not so hard, the family had to continually move from town to town in the region to keep his position.
That is when my grandmother began to meet lots of other immigrants. A lot of the families had come from Poland. This is when she discovered the love for cabbage and sauerkraut. When she married my grandfather, Leo Guth, she would always make her favorite dish of Stuffed Cabbage Rolls with Sauerkraut she had learned to cook during her childhood. She would prepare the dish and take to all the families' gatherings, carried in a heavy crock or cast iron pot with a lid and wrapped in a quilt to keep it warm.
She then handed down the recipe to my mother, Harriett Wolfe, when she married her son, Daniel. My parents moved to Indiana after World War II where my father found work in the steel mills. My mother, now 85 years old still makes a big pan of the tasty rolls for our family gatherings. And as tradition has it, I too make the dish for my family and friends here in Illinois.
My grandmother often used homemade sauerkraut and freshly made tomato sauce with brown rice. When Campbell's came out with their condensed tomato soup, the recipe quickly adapted this ingredient as well as the canned Silver Floss sauerkraut and Uncle Ben's quick cooking rice.
Grandma Guth's Stuffed Cabbage Rolls with Sauerkraut
Denise Bollman, Springfield, Illinois
1 large head of cabbage
2 Ibs. ground chuck
2 cups Uncle Ben's Original Enriched Parboiled Long Grain Rice
1  27 ounce can Silver Floss Shredded Sauerkraut
2  10.75 ounce can's Campbell's condensed tomato soup
Preheat oven to 350 degrees
Fill a large stock pot with water and add cabbage leaves. Bring to a slight boil and continue cooking until cabbage is limp, drain water from cabbage with a colander
Cook rice, according to directions on the box
In a large bowl, mix together ground chuck, rice and half can of the tomato soup.
In a large heavy roasting pan, place the other half of soup into the bottom.
Lay cabbage leaves out and place one large scoop of meat mixture into the center. Fold leave over mixture and then tuck each end to center and roll up. Place rolls seams side down in roasting pan
Cover cabbage rolls with sauerkraut and top with remaining can of tomato soup.
Cover with lid or aluminum foil, and bake for one and one half hours at 350 degrees.
6-8 servings
This recipe is easily doubled for all your larger family gatherings