Greater Midwest Foodways Alliance
FAMILY HEIRLOOM RECIPES
Wisconsin State Fair
August 3, 2014
Contestant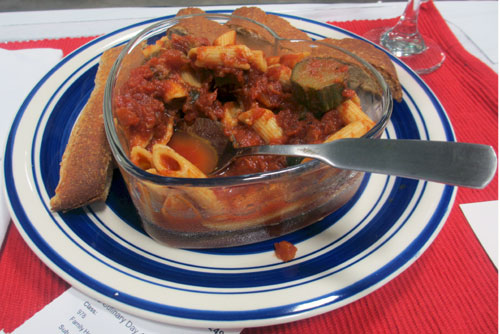 (Image by Catherine Lambrecht)
GaGoots
Teresa Herbst, Greendale, Wisconsin
My Grandma lived during the depression and during World War II as a devote Catholic. As she became a wife in 1908 and become a mother of 4 starting in 1910 and ending in 1921 she needed to stretch the budget for a family of 6 and this was made easier as they were Catholics, and the rule then was no meat on Fridays.
Grandma always had a garden and as we all know at the end of the season there was an abundance of tomatoes, potatoes, onions, garlic, pickles and zucchini's. Freezers were a wishful thought so she canned what was left over. But as she was canning she also needed to make a dinner and this is where our GaGoots came from.
Only 8 years after her last child was born came the depression and her garden grew to supplement their budget even more. As the first 2 her children married, they made sure they had gardens also. Her 3rd child married the day before Pearl Harbor was bombed, Dec 6, 1941. And during World War II the gardens were dubbed Victory gardens.
My mother continued making this recipe for many of the family gatherings and reunions as different people came home from or went to war. It was a comfort food for memory and homecoming. My mother raised 5 daughters from the time my father died in 1956, during which time she made sure we had the same Catholic upbringing she had – which included no meat on Fridays.
When my mother passed, I received her recipes and they were all in her hand writing. make this recipe in the fall and winter, making it up the night before, turning the slow cooker on as we are leaving for work and as we open the door after that long work day we have the aroma of GaGoots, and for me the memories return as if they were yesterday.
I have passed this recipe onto my daughter who is married and a family of her own. believe this is a true heirloom recipe as it is over 100 years old.
GaGoots
Teresa Herbst, Greendale, Wisconsin
Saute in 2 T olive oil
­1 med onion-diced
2 cloves garlic-minced
ltsp salt
1 large (> than 10″) zucchini seeded and cubed or
3 small « than 8″) zucchini cubed
Add in large pot-
23 oz cans of stewed tomatos – DO NOT DRAIN – squish tomatos by
2 squeezing with hands
2 small cans tomato paste & 1 can of water
2 tsp pepper
Add sauteed ingredients and simmer either:
on top of stove for approximately 6 hours or
using a slow cooker 10 hours on low
1/2 hr prior to serving add 1/2 # bag of cooked mostaccioli noodles
Served with a rustic style bread