Greater Midwest Foodways Alliance
FAMILY HEIRLOOM RECIPES
Picnics and Family Reunions
Missouri State Fair
August 9, 2014
Contestant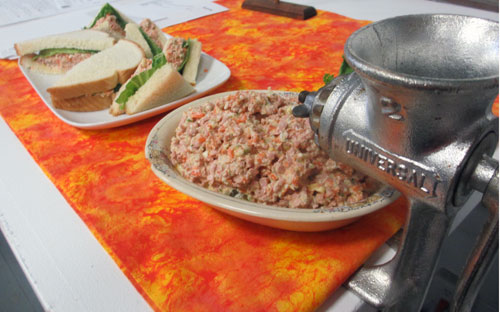 (Image by Catherine Lambrecht)
Granny Gundy "Ham" Salad
Terri Harlan, La Monte, MO
My Granny Gundy was born in 1903 to a family of 14 children. She married at 14 and started her family shortly after. I don't know if this recipe was from before she started her family or not, but my mother remembers having to power the grinder from when she was young. This recipe came about because of how cheap it was to make and how many of the ingredients could be gathered from the garden. Back in the day, as now, bologna was cheaper that ham. My grandma raised her own chickens which provided the eggs. Picked her own cucumbers out of her garden and pickled them herself. The onion and carrots also came from her garden. I can remember providing the "energy" to power the hand grinder used to prepare this dish, which was always ground Into an old, tea-stained, chipped bowl. Grandma always made this for our picnics in the pasture on hot summer days. I have continued the tradition kid powered salad with my children, nieces and nephew.
Granny Gundy "Ham" Salad
Terri Harlan, La Monte, MO
1 lb bologna
2 carrots
2 stalks celery
2 hard boiled eggs
1 medium onion
4 pickles spears
3/4 C. mayonase
Grind bologna, carrots, celery, eggs, onion and pickles.  Stir in mayonase, chill for 2 hours.