Greater Midwest Foodways Alliance
FAMILY HEIRLOOM RECIPES
Family Favorites Never Served to Guests
(or whatever you like)
Minnesota State Fair
August 22,  2015
Contestant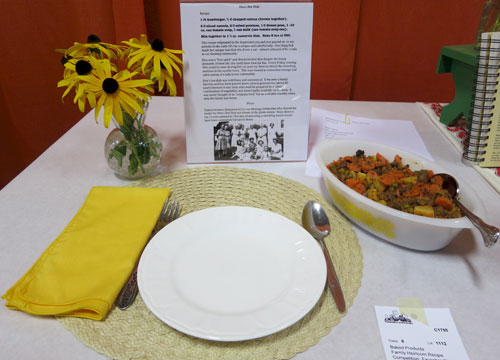 (Image by Russ Cheatham)
Etta's Hot Dish
Elsie Olsen, Eagan, Minnesota
This recipe originated in the depression era and was passed on to my parents in the early 30's by a unique and colorful lady. One thing that made her unique was that she drove a car – almost unheard of for a lady in our farming community..
Etta was a "free spirit" and demonstrated that despite the heavy demands of farm life, she could have time for fun. Every Friday evening Etta could be seen driving her car past our farm to attend the wrestling matches in the nearby town. This was viewed as somewhat strange and unbecoming of a lady in our community.
Etta's hot dish was nutritious and economical. It became a family favorite and has been passed down several generations [about 80 years] because it was tasty and could be prepared by a simple combination of vegetables and meat readily available on the farm. It was never thought of as "company food" but as a reliable standby when only the family was home.
Photo
Typical women (housewives) in our farming community who shared the recipe for Etta's Hot Dish are shown in the photo below. None drove a car or even aspired to. The idea of attending a wrestling match would have been completely foreign to them.
Etta's Hot Dish
Elsie Olsen, Eagan, Minnesota
1 lb hamburger, 3/4 C chopped onions (brown together)
2 C sliced carrots, 2 C cubed potatoes, 1 C frozen peas, 1 -10 oz. can tomato soup, 1 can milk (use tomato soup can).
Mix together in 1 1/2 qt. casserole dish. Bake 2 hrs at 350.