Greater Midwest Foodways Alliance
FAMILY HEIRLOOM RECIPES
Picnics and Family Reunions
Minnesota State Fair
August 17, 2014
Contestant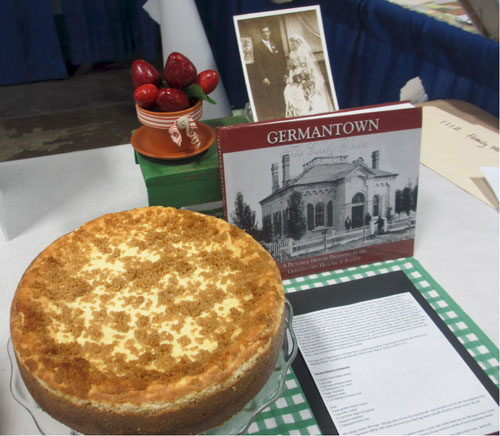 (Image by Catherine Lambrecht)
Grandma Mamie's Cheesecake
Barb Lutz, Elk River, Minnesota
This cheesecake is very rich and filling so serving sizes offen varied and one cake went a long ways. We always baked it for special occasions such as birthdays, Christmas, Easter, baptisms, or for special company. The recipe originated from my grandmother Helen Zander who was nicknamed Mamie after Mamie Eisenhower. She was always Gramma Mamie to me from little on. She was born in 1892 to parents that had originated from Germany. She had 3 sisters: Stella, Jessie, and Sonia. Sonia had passed away before I was born in 1952 along with my Grandpa Frank, Gramma Mamie's husband. Stella, Jessie, and Gramma Mamie would get together often and bake many things: bread, sweet rolls, coffee cake, kuchen, pies and of course on special occasions my favorite – this cheesecake. My parents, sister and I lived with my grandmother until I was 6 yrs old on her farm. I always enjoyed watching them bake and perhaps that's why I enjoy it tOday and joined 4-H when I became 8 until age 18. On the farm my father milked a herd of cows whereby my grandmother would turn the cream into butter with me sometimes helping her to churn. Gramma loved chickens and so very much enjoyed picking up the eggs. I did not! Helping her pick up the eggs was frightening to me with those chickens trying to peck me. So with the cows and the chickens we had the cream, eggs, butter and somehow Gramma also made the cheese from the milk. Lots of work to make a cheesecake then! That's what I would call from scratch! Gramma passed away in 1983 but we still hold her memory close to our hearts and think of her often when I make her cheesecake and other family favorites.
·See page 32 of "Germantown, The Early Years" to see my grandfather Frank Zander on the farm with his work crew. ·Wedding Picture: My paternal grandparents, Frank & Helen "Mamie" Zander, married in 1915.
Grandma Mamie's Cheesecake
Barb Lutz, Elk River, Minnesota
3 pounds dried cottage cheese
1 cup sugar
1 cup heavy whipping cream
2 Tablespoons corn starch
4 eggs, separated
1 teaspoon vanilla
1 1/2 Tablespoons lemon juice
Crust:
3 cups graham cracker crumbs
1 cup butter, melted
1/2 cup brown sugar (not packed)
1 teaspoon cinnamon
1 Tablespoon lemon zest
Mix cottage cheese with sugar. Add egg yolks one at a time and beat well. Add cornstarch and mix well. Add whipping cream (do not whip before adding). Add vanilla and lemon juice. Beat egg whites until stiff and add to cheese mixture. Mix well.
To make crust:
Add cinnamon, brown sugar and lemon zest to graham cracker crumbs. Add melted butter and mix. Pat mixture into a 10 inch spring form pan on bottom and halfway up side of pan reserving 3/4 cup crumbs to sprinkle on top of cheesecake mixture.
Bake 1 hour in a 350 degree oven. Turn oven off leaving oven door open allowing cake to cool in oven. Serves 20.