Greater Midwest Foodways Alliance
FAMILY HEIRLOOM RECIPES
Indiana State Fair
August 11, 2016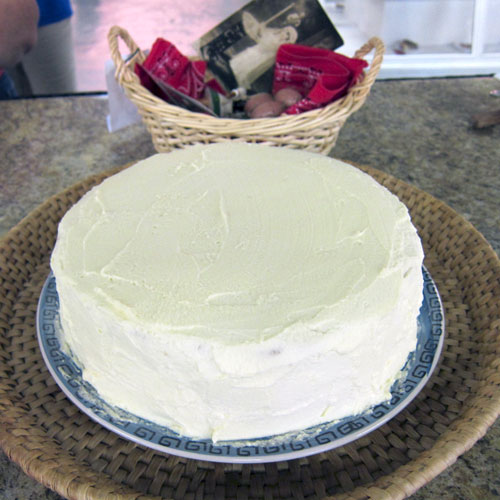 (Image by Peter Engler)
Contestant
Aunt Eugenia's "Chinese Wedding Cake"
Christine Rienecker, Indianapolis, Indiana
Cake Ingredients:
1 cup four
1 teaspoon baking powder
6 large eggs, separated
1 cup sugar
1 teaspoon vanilla
1 20-oz. can crushed pineapple in heavy syrup, very well drained
Whipped Cream Frosting:
1 pint heavy cream
1/2 cup sugar
1 teaspoon vanilla
Preheat oven to 350°F. Line two 9-inch cake pans with waxed paper.
Sift together flour and baking powder in a small bowl. Set aside.
Place the egg whites in a large mixing bowl. Beat until foamy. While beating, gradually add 1 cup sugar. Beat until stiff.
Add the vanilla to the egg yolks. Add the egg yolks, one at a time, to the egg whites, beating well after each addition. Carefully fold in the sifted dry ingredients, a few tablespoons at a time. Turn into the prepared cake pans. Bake for 20 to 25 minutes or until cake springs back when touched with a finger. Turn out on cake racks and immediately remove the waxed papers. Cool.
For the whipped cream frosting, beat the heavy cream. While beating add the sugar and vanilla. Spread one layer with 2/3 cup whipped cream frosting. Over this spread the crushed pineapple. Frost the cake with the remaining remaining whipped cream.
Yield: 1 9-inch layer cake
Preparation time: 30 minutes
Total time: 4 hours