Greater Midwest Foodways Alliance
FAMILY HEIRLOOM RECIPES
2015: Family Favorites Never Served to Guests 
(or whatever you want)
Indiana State Fair
August 13, 2015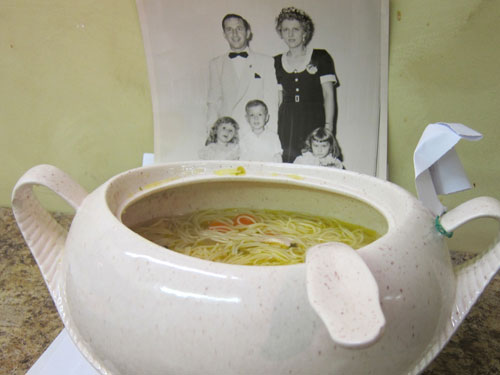 (Image by Peter Engler)
Aunt Nellie's Chicken Noodle Soup
(This recipe has been in my family for 70 years)
Christine Rienecker, Indianapolis, Indiana
Aunt Nellie made this soup from the time she married my uncle Rudy Labuz, which was 71 years ago.
Aunt Nellie was my favorite aunt. She was very loving and always thought of others first. She never said anything critical or gossiped about others. If you told Aunt Nellie a secret, it stayed with her forever. She was always cheerful and could pull a pillowcase on a pillow faster than anyone else.
Aunt Nellie and my Uncle Rudy, and cousins Edziu, Ronnie and Junior lived in a big, three-story house in New York Mills, NY. My grandparents, Aunt Katie, Aunt Gertrude and their families lived there too, along with a huge garden and a multitude of flowers and a henhouse. The henhouse was so big that we could climb to the second level and play in the straw which caused loud clucking and squawking by the residents. Not only did the hens give us eggs, but they were used to make Aunt Nellie's delicious chicken noodle soup. Of course, we kids did not participate in the chickens' demise!
In the summer cousin Edziu, my sister Carole and I would help to gather the parsley, carrots and onions from the family garden to put in the soup. The chicken would simmer in the pot while we colored in coloring books, chased each other upstairs and downstairs and played cards. As we sat at the huge dining room table, aunt Nellie served the soup with Polish rye bread, butter, a salad made from the fresh produce from the garden and Chrusciki (angel wings) for dessert.
Aunt Nellie always made the soup whenever anyone was sick. The person may not have gotten belter immediately, but they sure felt better and were filled with Aunt Nellie's love. She wrote to her family and friends regularly when they moved away and always signed her letters with a big S.W.A.B.K. (sealed with a big kiss). Aunt Nellie passed away atter a life of caring for and loving others.
S.W.A.B.K, Aunt Nellie, Love,
Maggie Jeeks
Aunt Nellie's Chicken Noodle Soup
(This recipe has been in my family for 70 years)
Christine Rienecker, Indianapolis, Indiana
2 1/4 cups chopped onion
1 tablespoon salt
1 1/4 teaspoons pepper
1 gallon water (to make chicken broth)
1 5 1/4 to 5 1/2-pound fat chicken, well rinsed and plucked, giblets removed and cut into parts
1/2 cup chopped parsley
1 1/2 cups chopped celery plus leaves
3 cups sliced carrots
For noodles:
1 1/4 Ibs. uncooked thin egg noodles
1 gallon water (to cook noodles)
1 tablespoon salt
In a large (6 to 8 quart) soup kettle, place onions, salt, pepper, chicken and water. Heat over high heat to boiling. Reduce heat to low, cover and simmer for 1 1/2 hours. Remove chicken to large bowl and cover to keep warm. Add parsley, celery and carrots to the soup kettle. Cover and simmer over low heat for 45 minutes or until vegetables are tender.
In a separate pot bring 1 gallon of water and 1 tablespoon salt to a boil. Add noodles and cook 4 minutes. Remove, drain and rinse noodles. Add to chicken broth and stir well. Add cooked chicken and heat until chicken is hot.
Yield: 9 servings
Total prep time: 3 hours 15 minutes