Greater Midwest Foodways Alliance
FAMILY HEIRLOOM RECIPES
Indiana State Fair
August 9, 2013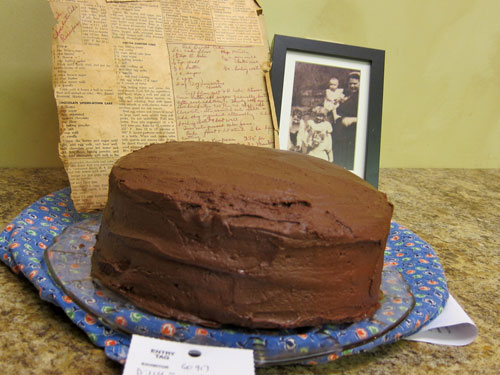 (Image by Peter Engler)
Contestant:
Red Devil's Cake
Deborah Green, Fortville, Indiana
I love to look for the parallels between the present and the past. One such case is the kitchen cabinet that I call my Twenty-first Century Version of Mom's Recipe Books. If you would open the door you would see a sizeable stack of recipes that I have printed from the internet. The most frequently used ones are on the top of the stack and bear penciled-in notes that I call my "tweaks".
The aging counterpart to my internet treasures are two plain scrapbooks created from simple loose¬leaf binders that have been in my possession since my mother's passing in 1988. Their aging pages are covered with a wealth of recipes that Mom gleaned from magazines, newspapers and brochures throughout her married life. Some of the recipes are in her own handwriting; they often include notes about her adjustments, the recipe's source or her opinion of the finished product. (Yes, these were her "tweaks".) Visits home would often include some time searching through the scrapbooks and conversations would center on the recipes, Since they have come into my possession, the scrapbooks have become an important source of inspiration and my link to what I like to call our family's "kitchen culture".
Ada Strain Wingate was a stay-at-home mom, who raised 5 children. Living on a single income meant she grew and preserved most everything we ate. The scrapbooks have pages dedicated to jellies, pickles, relishes and other canned products. There were not many "extras" in our household, but there were always cakes, cookies, pies, cinnamon rolls and other homemade treats. Cakes were usually baked in a 9X12 cake pan or Pyrex dish, but if Mom was baking a cake for an extended family dinner or a pitch-in, she would make a layer cake … a simple chocolate cake with a powder sugar based icing. (We didn't call it frosting.)
The recipe I am sharing for this event is "Red Devil's Cake", It is penned in red Ink on a page titled "Favorite Chocolate Cakes." She later wrote in a green ink comment: "My first old standby favorite chocolate cake, used for years." My parents were married on June 6, 1943. She must have begun using this recipe near this time.
There are a few puzzlements in this recipe. First of all, how do you beat whole eggs until they are stiff? My modern research has come up empty on this one. Even if you could, I can't imagine even trying this without my Kitchen-Aid! Mom never used a whisk; she would have used a rotary egg-beater. She wasn't gifted with her first electric hand-held mixer until the early 60s. The second question, why is it called Red Devil's Cake? The Devil part probably comes from chocolate cake being referred to as Devil's Food, but why the adjective "Red"? Red food Coloring is not an ingredient like it is in Red Velvet Cake. According to the Betty Crocker website, "The slight red tint in this cake comes from the reaction between the acid in both the buttermilk and chocolate and the alkaline base of the baking soda." The addition of boiling water at the end of the mixing could be a catalyst for this reaction. Thirdly, why do you sift the dry ingredient 3 times, when in this day and age, we simply throw them in the bowl and whisk them together? I don't know why, but I did it. I'll have to confess that I rolled my eyes and said, "Yes, Mother" while I did it.
Technology may have changed the looks of our kitchens and our sources for culinary information; but the appreciation for good food and the quest to prepare it in diverse ways is timeless.
Contestant:
Red Devil's Cake
As written in the recipe scrapbook of Ada Strain Wingate
Deborah Green, Fortville, Indiana
2 c. cake flour
1 1/4 tsp Baking soda
1/4 tsp Salt
1/2 cup Butter
1 cup Sugar
2 Eggs
2 oz. Unsweetened Chocolate
1 tsp. Vanilla
3/4 cup Sour milk or buttermilk
1/3 cup Boiling water
Sift, flour, salt and baking soda 3 times. Cream butter. Add sugar gradually beating after each addition. Slowly add eggs which have been beaten until they are stiff. Add melted chocolate. Stir vanilla into the milk and add alternately with the dry ingredients. Add boiling water and beat well. Turn into greased cake pans.* Bake, frost and let stand 2 hours before cutting.
2   8 in cake pans
Bake at 350 degrees for 25-30 minutes.
*Mother would line the bottom of her cake pans with wax paper
Chocolate Icing
1/2 cup butter
1/2 cup cocoa
3 cups Powdered sugar
1 tsp vanilla
Approximately 6 TBs of hot milk or water
Sift powdered sugar and cocoa together in a bowl. Place warm butter on top. Add Vanilla and hot liquid. Adjust powdered sugar or liquid to obtain the consistency that you want.