Greater Midwest Foodways Alliance
FAMILY HEIRLOOM RECIPES
Illinois State Fair
August 11, 2017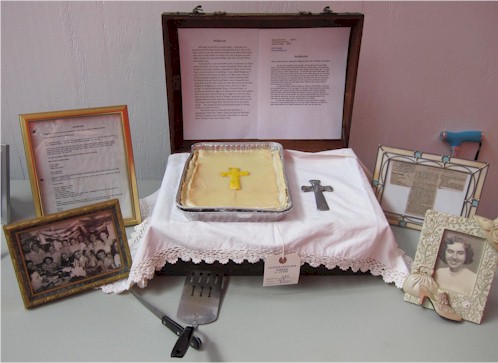 Contestant
 Religieuse
Michael Marchizza, Chatham, Illinois
lthough my family is mostly Italian, I did have one grandparent who was French. Not only that, but in the small town I grew up in, the locals that lived on my side of the tracks were also mostly Italian or French. So I not only grew up with Italian cuisine, but was also familiar with many French dishes and recipes also.
As far back as I can remember (and I am 66 now, so that's pretty far back), one of our unique and special dishes was only served during major holidays, especially at Easter and on New Year's, and sometimes at weddings. It was called Religieuse . It was a French word meaning religion. On New Year's Day our family would get together at my aunts tavern/bowling alley. We would have our traditional Italian meal of spaghetti and roast pork or some other meat, but after dinner we would have Religieuse. Religieuse is a French pastry that has a "blanc mange" or white pudding-like filling. In the early days, my mother would also put eggs in the filling and it was more yellow, but in later years she quit adding the eggs. (I'm not sure why). After eating the pastry, all of us children would go around the neighborhood and wish everyone a Bonne Annee, Bonne Sante. This simply meant Happy New Year and here's to your good health. The recipients of the greeting would give us nickels, dimes, or quarters in return.
My mother (Norma Draoulec) was quoted in a newspaper article from 1994 in which she says she had been making this pastry since the 1950's. Her mother-in-law had been making it many years before that.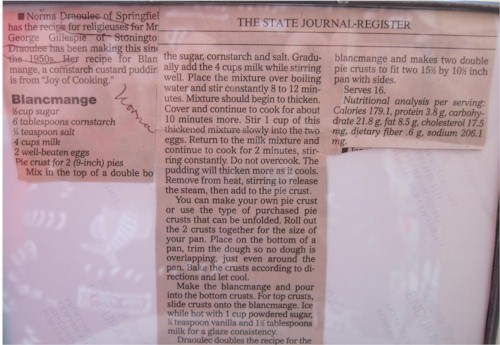 Contestant
 Religieuse
Michael Marchizza, Chatham, Illinois
There are three steps in making the Religieuses: the crust, the filling, and the glaze.
For the crust, combine 1 1/4 cup flour, 1/4 tsp salt and 1/2 cup chilled (been in the freezer a few hours) butter diced into smaller pieces. This should be processed in a food processor. Once you start getting small crumbs, add ice cold water one tbs at a until a dough forms. Do not add more than 4 tbsp water. You will need to roll out two crusts, each the size of the cookie sheet pan you are using. Fix and press one crust into the bottom of the pan and up the sides. Use a fork to prick the prick the pie crust along the bottom and sides of the pan. For the second crust, flip a cookie sheet upside down and roll or press the pie dough to cover it. (This will be used for the top of the pastry later). Bake the pie crusts at 350 for 10-15 minutes or until brown.
To make the filling, or blanc mange, you will use a double boiler. In the top of the double boiler stir in 1/3 cup sugar, 1/4 tsp salt, 3 tbsp cornstarch, and finally, very slowly, add 2 1/2 cups of milk. Cook over medium heat, stirring constantly until the mixture starts to boil. Allow the mixture to boil for 1 minute. Remove from heat and add 1 1/2 tsp vanilla. Pour this hot pudding filling into the pie crust. Then slide the second pie crust over onto the top of the pudding mixture. (For larger pans you may need to make a double batch of the filling).
To make the vanilla glaze you will heat 1/3 cup butter until it is melted. Then stir in 2 cups powdered sugar and 1 1/2 tsp vanilla. Finally stir in 1-4 tbsp hot water until smooth and of desired consistency to pour over the top crust.
Religieuses is a French word for cream pie. It was usually made for religious holidays.
Blanc Mange is French for white pudding.
1st I bake the crusts. You can do it the night before. You can make your own pie crust or use the type of piecrust that can be unfolded (I use Pillsbury piecrust in the red box).
Roil out two crusts together for the size of the pan. Place crust on the bottom of pan and up the sides, then do the same again using the bottom of another pan (this crust will be used for the top crust). Do not over lap your dough on bottom pan. I spray bottom of pans. Bake crust using instructions on box. Let crust cool.
To make your Blanc Mange (cornstarch pudding) or (white pudding)
Mix in top of double boiler
1/3 cup sugar
1/4 tsp, salt
3 tbsp. com starch
Stir in gradually 2-1/4 cups milk
Cook over medium heat, stirring constantly until mixture boils. Boil 1 minute. Remove from heat.
Blend in 1 1/2-tsp. vanilla
Pour hot pudding into bottom crust, Then slide top crust from pan onto the pudding mix while hot.
Vanilla Glaze
1/3 cup margarine or butter
2 cups powdered sugar
1 1/2 tsp. vanilla
2 to 4 tbsp. hot water. Heat margarine until melted. Stir in powdered sugar and vanilla. Stir in desired consistency. Stir in water: 1 tablespoon at a time until smooth and of desired consistency. Glaze top crust.
HINTS
I make a double batch of pudding and I use 15 1/2 by 10 1/2 pan with sides Also have glaze made before making the pudding. You may have to patch the piecrust to fit the pan.
ENJOY. Norma