Greater Midwest Foodways Alliance
FAMILY HEIRLOOM RECIPES
Picnics and Family Reunions
Illinois State Fair
August 8, 2014
Contestant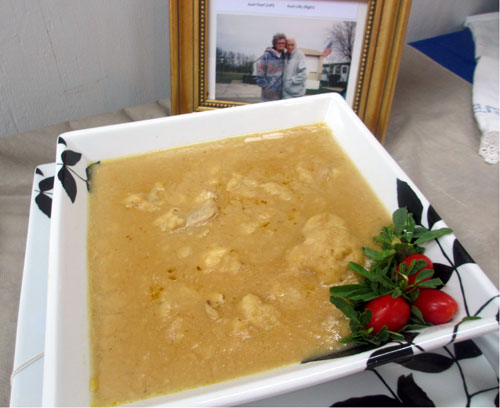 (Image by Catherine Lambrecht)
Aunt Pearl's Chicken and Dumplings
Carol Meadows, Springfield, Illinois
My husband was blessed because he came from a family of good cooks. I was blessed because they took me under their wings and showed me how a little bit of this and a little bit of that would change a bland recipe into something unforgettable.
Every year the "Meadows" held a family reunion in Dix, IL. A small town that was just a blink off the interstate.
The Meadows family loves to eat and so the women would show up with their signature dishes. Everyone knew you had to get everything you wanted on the first pass through because there was no going back for seconds because everything would be gone.
One of the main dishes everyone looked forward to was Aunt Pearl's Chicken and Dumplings. Aunt Pearl was married to Uncle Lee. Uncle Lee always had a twinkle in his eye and a smile on his face. Aunt Pearl always had a smile on her face and a hug for everyone we loved them both.
One of the main dishes at the reunion was Aunt Pearl's Chicken and Dumplings. Uncle Lee would joke about being first in line so he was guaranteed some of the chicken and dumplings. If you were unfortunate enough to be the last person in line it would be iffy that there would be any dumplings left. They were always the first to go. Aunt Pearl used the largest pot she had and it was filled to the brim. When she was asked why she didn't make more she laughed and told everyone that was the largest pan she had in the house.
One of the main discussions was trying to figure out how Aunt Pearl made her dumplings because they were always so light and fluffy. For years the rest of the family would make chicken and dumplings but they never tasted like Aunt Maude's.
One year I finely decided to ask her for her "Chicken-and-Dumpling" recipe. I remember she gave me a hug and laughed like it was a great joke. She described how she cooked the chicken and made the broth. She finally got to the dumpling part and laughed when she told me the dumplings were biscuits. She said Uncle Johnnie came home one evening and wanted chicken and dumplings for supper. She knew she did not have the time to make dumplings so she used the biscuit dough she had mixed for supper. Uncle Johnnie liked them better than her homemade dumplings so after that she always used her biscuit dough recipe. She said she would mix up the biscuits and instead of rolling the dough out she dropped the dough into the chicken broth. She laughed and said if she was in a real hurry she could use canned biscuits.
She said you just had to pop the roll open cut each biscuit into four pieces and drop them in the broth.
We now had the recipe!
Aunt Pearl's Chicken and Dumplings
Carol Meadows, Springfield, Illinois
Aunt Pearl and Uncle Lee are both gone now. But I have great memories every time I make Chicken and Dumplings (Biscuits).
Ingredients for Broth:
I Chicken Cut Up or 3 Chicken Breasts
1/4 Cups Carrots Grated
1/2 White Onion Finely Chopped
1 Rib of Celery Grated
1 1/2Teaspoon Poultry Seasoning
1/2 Teaspoon Sage
8 Bouillon Cubes
4 Cups Water Enough to Cover the Chicken
3 Cups Water (For extra liquid for dumplings)
In a large pan place the chicken, carrots, celery, onion, poultry seasoning, sage, 6 bouillon cubes, and 4 Cups Water. Cook over high heat and bring to a boil. Reduce heat to simmer and cover and let cook for an additional 20 minutes. In a smaller pan add the 3 cups water and 2 bouillon cubes and bring up to a boil and reduce to simmer. Use the 3 cups water for additional liquid for the dumplings if needed.
Dumplings: Biscuits
1/4 Cup Shortening
2 Cups Flour
3 Tablespoons Baking Powder
1 Teaspoon Salt
3/4 Cup Milk + 1 Tablespoon
1/2Teaspoon Rubbed Sage
While the chicken is cooking you mix the biscuits. In a mixing bowl cut shortening into the flour, baking powder, salt, and sage. Once the shortening is cut into the flour add the milk and mix until you have sticky dough. The 1+ Tablespoon is used if the dough is dry. Remove chicken from the pan and shred into fine pieces. Set chicken aside. Turn the pan up to medium or medium high heat. Start adding the biscuit dough a tablespoon at a time into the boiling chicken broth. Make sure your stir the pot occasionally to keep the biscuits separated. Cook uncovered for 10 minutes cover and cook for 10 more minutes. Add the chicken back into the pot and gently stir to incorporate the chicken with the dumplings. Serve hot with biscuits.