Greater Midwest Foodways Alliance
FAMILY HEIRLOOM RECIPES
Picnics and Family Reunions
Missouri State Fair
August 9, 2014
Contestant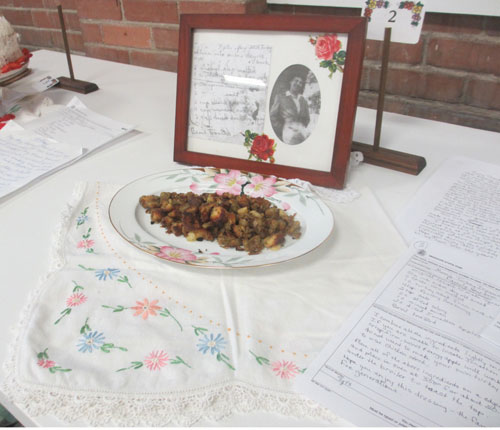 (Image by Catherine Lambrecht)
Mom's Turkey Dressing
Pat Finkes, Steelville, MO
Every Thanksgiving we have the same debate which dressing will be made, my mom's or his mom's.  You would think after 40 years of marriage I would know the answer by now, we make both.  Its nice we continue on with our family traditions.
Today, I will be sharing my Mother-in-laws 'Turkey Dressing" recipe with you. This recipe has been passed down through my husband's family starting with his grandmother, his amom and to his brothers and sisters.  I, too, have shared this recipe with my children, when they were younger the(y) would help with preparing the applies by cleaning & chopping them up.  Now that they are grown they continue to make it for their children.  The boys like to know this recipe of Turkey Dressing their Great Grandma use to make.
We have also started a family cookbook which being filled with not only family recipes but the stories to go along with the recipes.  The cookbooks will be passed onto our grandsons and hopefully future generations.
This Turkey Dressing is a simple recipe but it made a lot, it fed a lot of folks for little cost, which was important back then and even now.
I know this Turkey Dressing recipe has been enjoyed by all of my husband's family, not only for the simplicity of the recipe, but most of all for the memories of their mom, it brings to each of them, especially during holiday time.
Hope you enjoy this Turkey Dressing as much as we have over the years.
Mom's Turkey Dressing
Pat Finkes, Steelville, MO
Makes 4 quarts of Dressing for 20# Turkey
Slice into cubes day old bread
2 sticks, oleo, melted
1 c. turkey stock from neck, heart
4 tsp. Poultry seasoning
2 tsp salt
2 c sliced celery
1 c minced onion
2 c. diced Jonathon apples
I combine all the ingredients.  Lightly mixing by hand.
If you are unable to locate Jonathon apples a nice crisp, firm, sweet & tangy apple will work.  Also, if you do not want to make your own turkey stock, it is ok to use chicken stock.
Place all of the above ingredients on an edged cookie pan and place in oven at 350 degrees for about 20-30 minutes then under the broiler to toast the top.
Hope you enjoy this dressing – the family has for generations.