Greater Midwest Foodways Alliance
FAMILY HEIRLOOM RECIPES
Family Favorites Never Served to Guests
(or whatever you like)
Minnesota State Fair
August 22,  2015
Contestant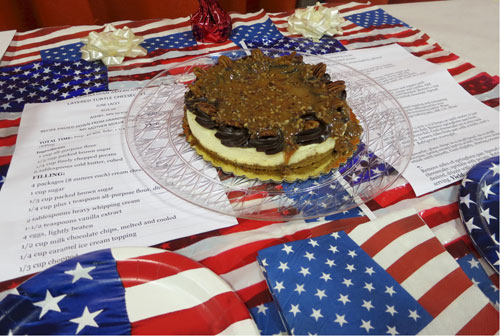 (Image by Russ Cheatham)
Norweigan-American Layered Turtle Cheesecake
June Lacey, Ashby, Minnesota
Grandma Lundhagen came from Norway to the United States in the 1800's. She brought all the recipes her mother passed down to her, including lefsa and cheesecake.  Norweigians love cheese!  Nonetheless, Grandma Lundhagen wanted to add more flavor to her mothers cheesecake recipe, so she added delicious caramel, chocolate and various nuts – pecans & almonds.
After numerous experiments and by popular demand, this final recipe was decided upon.  It seemed that relatives and friends seems to prefer this particular recipe.
Back in the 1800's, sitting around the fireplace and talking with friends was commonplace.  There were no computers or television sets.  Good old verbal communication was the norm and what better to do than enjoy a delicious piece of cheesecake while chatting!
The television show "The Golden Girls" seemed to express the lure of sitting and talking while enjoying a piece of cheesecake.
Most people in the Midwest grew up with cheesecake and rarely do you find someone who doesn't appreciate its value.
Norweigan-American Layered Turtle Cheesecake
June Lacey, Ashby, Minnesota
Recipe passed down from Grandmother Lundhagen to my Mother Mollie Lynne.
Ingredients:
1 cup all purpose flour
1/3 cup packed brown sugar
1/4 cup finely chopped pecans
6 tablespoons cold butter, cubed
Filling:
4 packages (8 ounces each) cream cheese, softened
1 cup sugar
1/3 cup packed brown sugar
¼ cup plus 1 teaspoon all-purpose flour, divided
2 tablespoons heavy whipping cream
1-1/2 teaspoons vanilla extract
4 eggs, lightly beaten
½ cup milk chocolate chips, melted and cooled
¼ cup caramel ice cream topping
1/3 cup chopped pecans
1/2 cup milk chocolate chips
1/4 cup heavy whipping cream
2 tablespoons chopped pecans
Additional caramel ice cream topping, optional
Place a greased 9-inch springform pan on a double thickness of heavy-duty foil (about 18 inches square).  Securely wrap foil around pan.
In a small bowl, combine the flour, brown sugar and pecans; cut in butter until crumbly.  Press onto the bottom of prepared pan. Place pan on a baking sheet.  Bake at 325 degrees for 12-15 minutes or until set.  Cool on a wire rack.
In a large bowl, beat cream cheese and sugars until smooth.  Beat in ¼ cup flour, cream and vanilla.  Add eggs; beat on low speed just until blended.  Remove 1 cup batter to a small bowl; stir in melted chocolate.  Spread over crust.
In another bowl, mix caramel topping and remaining flour; stir in pecans.  Drop by tablespoonsful over chocolate batter.  Top with remaining batter.  Place springform pan in a large baking pan; add 1 in. of hot water to larger pan.
Bake at 325 degrees for 1-1/4 to 1-1/2 hours or until center is just set and top appears dull. Remove springform pan from water bath; remove foil. Cool cheesecake on a wire rack for 10 minutes.  Loosen sides from pan with a knife; cool 1 hour longer.  Refrigerate overnight.
For ganache, place chips in a small bowl.  In a small saucepan, bring cream just to a boil.  Pour over chips; whisk until smooth.  Cool slightly, stirring occasionally.
Remove sides of springform pan.  Spread ganache over cheesecake; sprinkle with pecans.  Refrigerate until set.  It desired, drizzle with additional caramel topping before serving.
Yield: 12 servings.