Greater Midwest Foodways Alliance
FAMILY HEIRLOOM RECIPES
Picnics and Family Reunions
Minnesota State Fair
August 17, 2014
Contestant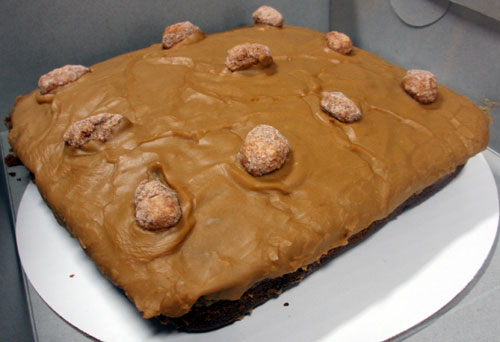 (Image by Catherine Lambrecht)
APPLESAUCE CAKE
Betty Stennes, Farmington, Minnesota
NOTE: My grandmother used to make applesauce cake back in the late 1950s for special occasions. My mother made this cake quite often before she passed away last year. This cake was one of her favorites. Although I have never made this cake before, I tasted the crumbs and I loved the flavors. I will continue to make this cake in the future. It is perfect to take on.picnics as a dessert item .
APPLESAUCE CAKE
Betty Stennes, Farmington, Minnesota
1-1/2 c. flour (I used Gold Medal)
3/4 tsp baking soda
1 tsp cinnamon
1/2 tsp ground cloves
1/2 tsp allspice
1/8 tsp. ground nutmeg
1-1/2 tsp. salt
8 Tbsp. butter
3/4 c. light brown sugar
1 egg.
1 c. chunky applesauce
1 c. chopped pecans
1 c. raisins
Preheat oven  350°F.
Prepare a 9-inch round or square pan with shortenihg or baking spray. A Bundt pan or a loaf pan will also work.
Combine all dry ingredients (first eight listed) into a bowl and stir with a fork.
Put the butter into a mixer and beat for 30 seconds until it's light and creamy. Beat in brown sugar for 2 minutes until all the lumps are out and the mixture is smooth, and then beat in the egg. Add the flour mixture in 3 parts, alternating with 2 parts applesauce. Beat on low until just combined.
Add in nuts and raisins. :
Bake for 30 minutes in 9-inch pan. A Bundt pan will take 15 minutes longer and a loaf pan will take almost an hour to bake all the way through. This is a dense, moist cake-be sure to test it for doneness.
Let the cake cool in the pan for 10 minutes before transferring to a cooling rack.
Keep it simple and spinkle with powdered sugar and serve it with a scoop of ice cream, if desired. Makes: 1 9-inch cake
BROWN SUGAR FROSTING
2 c. dark brown sugar
1 c. heavy cream
3 Tbsp. butter
1 tsp. vanilla
2 – 3 c. powdered sugar
Cinnamon sugared pecans
Place brown sugar and heavy cream into a medium sized pot and cover it. Bring to simmer for 2 minutes. then with a wet Pastry brush, wipe away any sugar crystals from the sides of the pot. Using a Candy Thermometer, cook it uncovered until it reaches 238° F.
Turn off heat and add the butter, but do not stir.  Leave the candy thermometer in place and let it sit for 1 hour until the temperature comes down to 110°F. .
The butter will be melted on top, stir in with a spatula and then transfer to mixer.  Mix for several minutes with a paddle attachment until caramel and butter come together and is less separate.
Change the paddle attachment for the whisk attachment and add in powdered sugar a half cup at a time. More or less powdered sugar may be required depending on your desired consistency. Remove cake from fridge and frost jut the top. Add cinnamon pecans for"'decoration.