Greater Midwest Foodways Alliance
FAMILY HEIRLOOM RECIPES
Indiana State Fair
August 11, 2016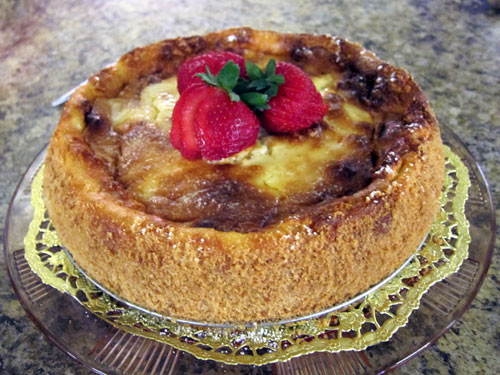 (Image by Peter Engler)
Contestant:
Family Secret Cheese Cake
Jennifer Dickie, Greenwood, Indiana
Well, I'm sure we ail have our fair share of "Mother-in-law" stories! This is mine!!
Like most new brides I was a little intimidated by my mother-in-law at the beginning. It didn't take long to see we had a mutual love for all things food; especially for the love of baking. The best gift I have ever received from her was this Family Secret Recipe. I didn't realize how special it was until I mentioned that my mother-in-law, (the mother of 3 daughters) had not, nor would not pass it on to them, or anyone else for that matter. Things got a little sticky to say the least. I can report that my sisters-in-law now have the recipe. I will always hold this recipe near and dear to my heart, as I do my Mother-in-­law.
The recipe came from my husband's Great- great- grandmother, Mary Elwell of Lancaster, Pennsylvania in 1865. She was an Amish girl who raised her own chickens for her eggs, and milked her own cow for her cream. The secret ingredient is Amish Zweibach toast, also known as teething toast. It is very hard to find zweibach toast, but is worth the hunt. Finding true fresh Amish zweibach is next to impossible. Nowaday it's not easy to find the pre-packaged either.
I am blessed to have such a great mother-in-law, who by the way gave me her blessings to pass this recipe on to you.
Enjoy!
Contestant:
Family Secret Cheese Cake
Jennifer Dickie, Greenwood, Indiana
1/2 pkg. Zwicbach Toast
I cup granulated sugar
1/2 tsp. salt
1 tsp. vanilla
1 cup whipping cream
2 Tbs. butter
2 Tbs. flour
2 80z. pkgs. Philadelphia cream cheese 4 eggs
1- 9″ spring form pan
Place zwicbach toast in a food processer and pulse to crush. Add butter and 1 Tbs. of sugar to crumbs and pulse to mix. Press crumb mixture evenly into bottom of mold and up the sides as far as possible.
Separate eggs and beat the whites until stiff picks. Set aside.
Mix flour and salt into remaining sugar, cream well with softened cream cheese. Add vanilla and yolks, on at a time, beating well. Add cream and mix again. Gently fold in egg whites. Pour in prepared mold.
Bake in preheated oven at 350o for 1 hour, or until center is firmly set. Allow to cool slowly in oven, then at room temperature, the in refrigerator. As cake begins to fall back into the pan on cooling, run a knife around inside of pan so that cake settles evenly. Garnish with sifted powdered sugar.