Greater Midwest Foodways Alliance
FAMILY HEIRLOOM RECIPES
2015: Family Favorites Never Served to Guests 
(or whatever you want)
Indiana State Fair
August 13, 2015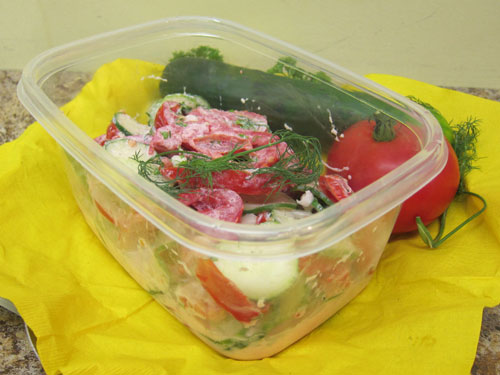 (Image by Peter Engler)
German Cucumber Salad
Phyllis Hine, Waveland, Indiana
In 1971 I took a 3 week trip to Old Salem, North Carolina to find out about my family history. This is what I found out about my family history.
In 1753 Johanna Jacob Hine came to America from Rhine Valley Germany with his wife. He settled what was called the "Broadbay Settlement". That is the neighborhood of the modern town of Waldoboro, Maine which was part of the colony of Massachusetts.
In 1770 he went to North Carolina with his wife, 3 sons and 3 daughters and settled on a farm in the Moravian settlement called Wachovia.
William Charles Hine son of Johanna Jacob Hine was born May 7, 1826 in Waldoboro, Maine. William Charles Hine served in the Civil War from 1860 to 1865. After serving in the war, he brought his family to Whitestown, Indiana in the year 1866. The journey was made by covered wagon with his 4 sons and their household goods. A short time after they arrived in Boone County in 1866, he bought a small farm west of Whitestown. William Charles Hine died on October 9,1899 in Boone County.
William's son Edward Alexander Hine was my grandfather. He was born in Old Town, North Carolina in 1862. He bought a farm outside Whitestown and raised 10 children, 7 boys and 3 girls. One of the boys named Walter was my dad.
My grandfather was a cattle man and he told stories about shipping cattle from Whitestown to Indianapolis by train to the Indianapolis stockyards. I remember my grandfather and I was only 5 when he passed away in 1942.
My dad Walter was born December 15, 1892 at Whitestown, Indiana. He was a World War 1 Veteran. My dad was also a cattleman and bought a farm in Parke County Covered Bridge Country. I grew up on a farm showing cattle at the State Fair for 10 years. My dad passed away on October 1971. My dad had a brother Dewey Hine who served in World War II in Germany. After getting out of service, he went back to Germany and purchased an Inn and ran the Inn on his own. My uncle Dewey Hine passed away in 1970 in Germany. He sent this recipe for German Cucumber Salad to my mother and dad in 1947. This was his special German Salad. He knew we raised a big garden on our farm. It is a very cool and light salad, good anytime of the year. We never make this salad when we have dinner guests. Lots of people cannot digest cucumbers. We never take this to any Hine reunions or any pitch in dinners. The Hine reunions started in 1921 and there was only 2 years that the reunion was not held. The boys were in the service in World War II
German Cucumber Salad
Phyllis Hine, Waveland, Indiana
2 medium cucumbers, thinly sliced
4 green onions, thinly sliced
3 small tomatoes, sliced
2 tablespoons snipped fresh parsley
Dressing
1/4 cup sour cream
1/4 teaspoon prepared mustard
2 tablespoons minced fresh dill
1 tablespoon vinegar
1 tablespoon milk
1/8 teaspoon pepper
In a bowl, combine cucumbers, onions, tomatoes, and parsley. Combine dressing ingredients; pour over cucumber mixture and toss gently. Cover and chill for at least 1 hour.
Yields 4-6 servings
(The cucumbers and tomatoes are from my garden).