Greater Midwest Foodways Alliance
FAMILY HEIRLOOM RECIPES
Picnics and Family Reunions
Indiana State Fair
August 7, 2014
Contestant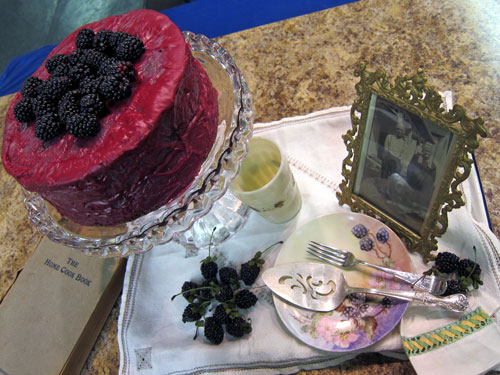 (Image by Peter Engler)
Grandma's Blackberry Cake
Susan Gibbs, Indianapolis, Indiana
Our family originally came to America from Europe and settled in Southern Illinois.
My Great Grandparent Harry and Lide Woods lived in Ellery Illinois. The town of Ellery was created in 1880 and was named after a man who had surveyed the railroad right of way. One of the first things built was the Ellery Christian Church, which still functions today.
For several years Ellery was a busy place. At one time it had five stores, a couple of barber shops, a woolen mill, a creamery and a sawmill .. In 1882 the first store was built, north of the railroad and was operated by Ted Woods. Today, Ellery's not much more than a dot on the map, with a small population of about 300.
However, it was in the early years of Ellery that my Great Grandmother Lide Woods utilized her excellent cooking skills to supplement the family's farming income by preparing meals for the men that worked for the railroad. She was hard working woman that started long before daybreak, baking and preparing for the days meals. The Woods family was also kind hearted, making sure they had leftovers that could be given to the vagrants or hobo's that road the rails.
My Father, Daryl Woods brought his family from southern Illinois to Indianapolis, Indiana in the 1950's seeking employment. This Blackberry Cake is one of Grandma Lide's recipe's that was given to my Mother and has continued to be passed down through the generations.
Though Grandma Lide picked wild berries to make her cake and the original recipes called for a hand full of this or a lump of that and her wood burning stove did not give a temperature; the recipes adaptation to measurements are what my mother passed to me and I to her great granddaughters.
There is comfort in family and pride in traditions. My family is proud of its Midwest heritage and we take comfort in our family's traditional recipes by always welcoming a hungry friend to share in a home made meal.
Grandma's Blackberry Cake
Susan Gibbs, Indianapolis, Indiana
1 Cup Butter @ room temperature
2 Cups Sugar
4 Egg Whites and Yolks, beaten together
3 Cups Flour
3 Cups Blackberries, sweetened and mashed
1 Teaspoon Nutmeg
1 Cup Buttermilk
1 Teaspoon Vanilla
1 rounded Teaspoon Soda, dissolved in Buttermilk
1 Teaspoon Baking Powder
1 1/2 Teaspoons Cinnamon
1/2 Teaspoon Salt
1 Teaspoon Allspice
1 Teaspoon Cloves
Wash the berries well in cool water. Allow them dry by spreading out on cloth for a few minutes.
Mash Blackberries and sweeten with 1/2 Cup of Sugar (Save juice for frosting)
Preheat oven to 325 degrees. Grease and flour two 8″ cake pans
Cream Butter and Sugar till fluffy, add Beaten Egg Yolks and Vanilla
Stir in Buttermilk with soda mixture
Sift the dry ingredients together (Flour, Salt, Nutmeg, Baking Powder, Cinnamon, Allspice and Cloves) slowly stir dry ingredients into sugar mixture
Fold in Berries
Divide batter between prepared pans
Bake till toothpick inserted in the center of cake comes out clean, about 30 minutes
Icing: Bring saved Berry Juice (about 1/3 cup) and 1 Tablespoon Butter to a boil.
Pour over 2 cups Powdered Sugar. Stir till free of lumps. Cool and Spread over Cake