Greater Midwest Foodways Alliance
FAMILY HEIRLOOM RECIPES
Indiana State Fair
August 9, 2013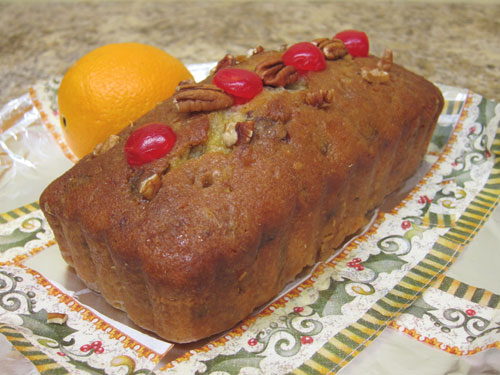 (Image by Peter Engler)
Contestant:
Orange Cake Story
Phyllis Hine, Waveland, Indiana
I grew up in beautiful covered bridge country. My childhood was essentially a rural one, filled with sips of cold water from long handled dippers and mason jars stored in the shed. The shed was also filled with home grown fruits and vegetables. Cured Hams and Bacon hung in the smoke house. And frosty morning trips were made to the outhouse.
Christmas seemed the highlight of every year with this old family recipe.
For weeks preceding that special day our kitchen was as fragrant with the smells of Christmas goodies as our living room was pungent with the smell of fresh cut pine.
One scent will forever mean Christmas for me – fresh oranges. Mother would begin baking and freezing her orange cakes before we had even finished Thanksgiving leftovers. As a child I was pushing orange halves against the juicer, watching the golden liquid spill into a bowl. When the cakes were done, I got to punch holes all over the cake top with old ice pick.
This old family recipe for these cakes was given as presents to teachers, neighbors and friends. Now I have my own daughter and together we bake Orange Cakes each holiday, to give to neighbors and friends. We have given our Orange Cake recipe to many. This makes a wonderful Christmas present. We will be attending a family reunion this weekend and will take an orange cake for desert.
Contestant:
Orange Cake Story
Phyllis Hine, Waveland, Indiana
1 package dates
1 cup chopped pecans
1 cup oil
2 cups sugar
4 eggs, separated
1 teaspoon soda
1 1/3 cups buttermilk
2 teaspoons baking powder 4 cups flour
1/2 teaspoon salt
Topping
Maraschino cherries
Pecan halves
2 cups brown sugar
1 cup fresh orange juice
1/2 cup chopped pecans
Dredge dates in a small amount of the flour and cut in small bits. Mix with chopped nuts. Cream together oil and sugar. Beat egg yolks thoroughly and add to butter and sugar. Dissolve soda in buttermilk and add to mixture. Stir in flour sifted with baking powder and salt. Add dates and nuts. Beat egg whites until they form stiff peaks, fold into batter. Blend well. Bake in 3 loaf pans, well greased and floured at 350 degrees for 30-40 minutes. Cake is done when knife inserted in the middle comes out clean.
To prepare topping, while cake is baking, squeeze orange juice and combine with brown sugar and chopped pecans, stirring to dissolve sugar. After cake is removed from the oven and still warm, punch holes all over cake tope (an ice pick is good for this and spoon on mixture, allowing it to seep into the holes in the cake. Repeat process for each cake.
Remove cakes from pans and transfer to a wire rack.
For a festive look, cherries and pecan halves may be arranged on top of the cakes and topping spooned over these, also.
Makes 3 loaf cakes