Greater Midwest Foodways Alliance
FAMILY HEIRLOOM RECIPES
Illinois State Fair
August 11, 2017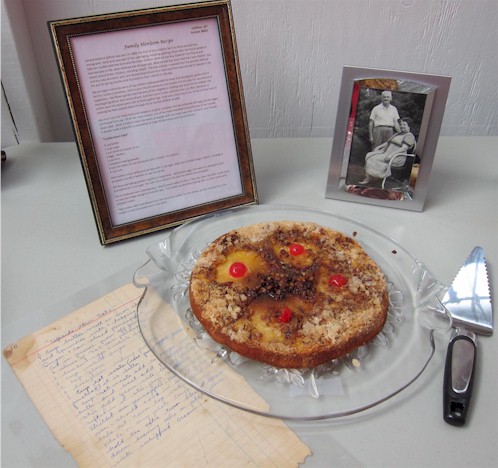 Contestant, 2017
Upside Down Cake
Mary Joan Miller, Pleasant Plains, Illinois
Amelia Mildred Caflisch was born in 1888, the first of nine children born to Swiss and German immigrants. Hard work was part of her upbringing, including quitting school after the fourth grade to help her mother with the farm and the other children. Mildred met Roy Glasford from Peoria and married later in life, when Mildred was 39 years old. Mildred and Roy never had their own children, but raised several foster children, including myself. The love and joy I received from my parents, Mildred and Roy was abundant, and I am blessed beyond words to have had these two-wonderful people in my life and for giving me the solid foundations that I cherish to this day.
My youngest memories were of my mother cooking wonderful meals and tending her garden full of berries, luscious tomatoes, melt-in-your mouth sweetcorn and bushels full of a colorful assortment of vegetables. Her flower garden was the envy of the neighbors. Cooking was an art to my mother. Her thanksgiving dinner was extraordinary. And Roy was a hunter and fisherman, so often pheasant or catfish were the centerpiece dish at family gatherings. Food was a mainstay in our family and her love of cooking has been passed down through me to my five children as well.
My mom kept her most treasured recipes in a spiral notebook that has yellowed with age and the edges are frayed from use. Of all her many recipes, one of my most-cherished memories was of her Upside-down cake. What a treat to taste the sweet pineapple with the moist cake that melted in your mouth. It always made a beautiful presentation at large family events and church dinners.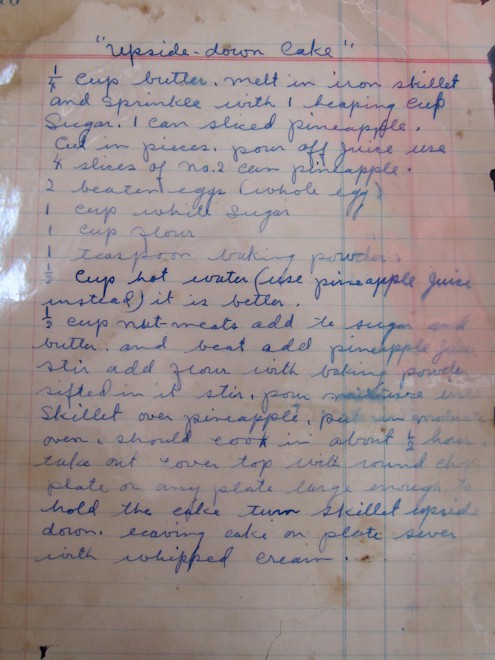 Contestant, 2017
Upside Down Cake
Mary Joan Miller, Pleasant Plains, Illinois
1/4 cup Butter
2 cups sugar
1 can sliced pineapple (8 oz.)
2 eggs – beaten
1 cup flour
1 teaspoon baking powder
1/3 cup hot water (or use pineapple juice instead – it is better)
1/2 cup nuts
Melt butter in iron skillet and sprinkle with 1 cup sugar. Add nuts to butter/sugar mixture. Arrange 4 pineapple rounds in bottom of cast iron skillet.
Sift flour and baking powder together in large bowl. Add beaten eggs, hot water (or pineapple juice) and additional 1 cup sugar. Stir well. Pour mixture into cast iron skillet over pineapple.
Put in moderate oven (350 degrees). Should cook in about 1/2 hour. Take out, cover top with round china or any plate large enough to hold the cake. Turn skillet upside down leaving cake on plate. Serve with whipped cream.
*My mother didn't add Maraschino cherries to her recipe, but she always put the red cherries in the middle of each pineapple slice in the skillet.