Greater Midwest Foodways Alliance
FAMILY HEIRLOOM RECIPES
Illinois State Fair
August 12, 2016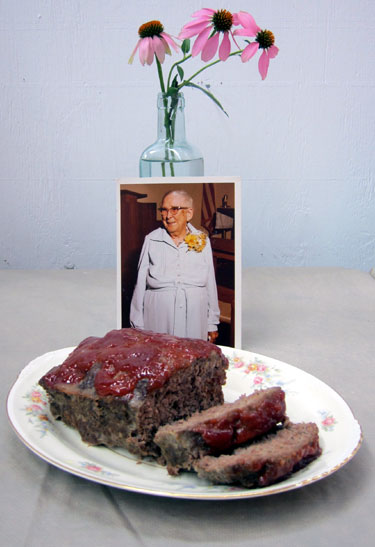 (Image by Peter Engler)
Contestant:
Grandma Delong's Meatloaf
Janie Saner, Sherman, Illinois
My grandma was one special lady. Mary Grace (Arvin) Delong was born on October 13, 1890. She and my grandpa lived at 322 South Park in Springfield. One of my favorite memories was riding the "city bus" with grandma. That was quite a big deal for this country girl. We would ride the bus downtown to shop at K Mart. We also walked to the nearby bakery on Saturday morning to buy butter cake. If you didn't get there early enough, it would be gone. I loved playing with her dog Trixie. Grandma and I played Chinese checkers and regular checkers, which she would sometimes let me win. We played give away checkers too, which was hard to play after playing regular checkers.
On Sundays, my family would often go to grandma's for dinner after church. One of our favorite meals was her special meat loaf. She would serve it on her pretty pink flowered china. I was later given this china and her china cabinet. Inside the door I found a note that says the name of the china is Nautilus and it was purchased at Bressmer's department store. The meat loaf is on Grandma's china platter.
I have been told by many friends and family that what makes Grandma's Meat loaf special is the piquant sauce which is spread on top of the meat loaf. The sauce contains the right amount of sweetness from the ketchup and brown sugar, but also has a bit of tanginess from the dry mustard. When I made our daughter a book of family recipes, I included this one. Her husband liked the piquant sauce so much that he asked her to double it when she makes the meat loaf.
I was named Mary Jane after my beloved grandma, Mary Grace. I share her love of cooking and gardening. She canned many vegetables over the years. Grandma saved money wherever possible. Her meat loaf was an economical dish to serve the family. This recipe has been in my family for well over 90 years. I am thankful that my mom put this recipe in my handwritten cookbook, and I hope the recipe continues to be passed on for many more years.
My grandma lived to be 100 years old. I still miss her, but I have great memories of her. One saying she had was "Take what you've got and make what you want out of it." I still say this today when I might not have exactly what I need for a project. My grandma was not wealthy, but she gave me a wealth of knowledge about life. I'm so glad that she also shared her love of God with us. My dad was her only child and she was 38 when he was born. I thank God for Grandma and I hope to pass on her love of cooking to our kids and grand kids.
Contestant:
Grandma's Delong's Meatloaf
Janie Saner, Sherman, Illinois
Ingredients:
2/3 cup dry bread crumbs
1 cup milk
1 1/2 pounds hamburger
2 eggs, beaten
1 T dried onion flakes
1 tsp. salt
1/8 tsp. pepper
1/2 tsp. sage
3 T brown sugar
1/4 cup ketchup
1/4 tsp. nutmeg
1 tsp. dry mustard

1)
Mix milk, bread crumbs, beaten eggs, onion flakes, salt, pepper, and sage in large mixer bowl at
low speed. Add hamburger and blend together.
2) Place in greased loaf pan.
3) Mix piquant sauce ingredients in a small bowl.
4) Spread piquant sauce over top of meat loaf.
5) Bake at 350F for 1 hour.