Greater Midwest Foodways Alliance
FAMILY HEIRLOOM RECIPES
Picnics and Family Reunions
Illinois State Fair
August 8, 2014
Contestant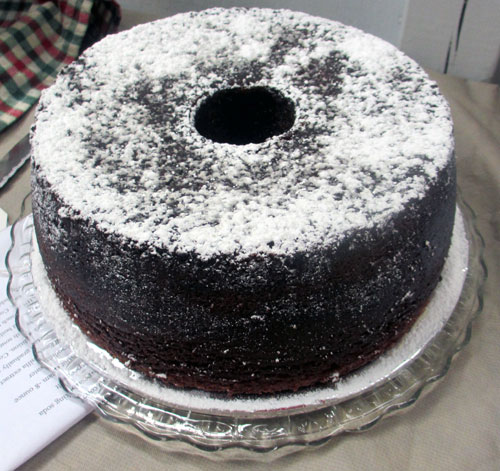 (Image by Catherine Lambrecht)
CHOCOLATE SOUR CREAM POUND CAKE
Pamela Lynn Sage, Monmouth, Illinois
My Mother, Julia Fields, was a natural born baker. Her parents immigrated from Hungary and she was one of 7 children, born in America. Every special occasion and holiday called for a special dessert.; cakes, pies, yeast nut or poppy seed sweet rolls, cobbler and of course apple strudel. At Christmas we had at the least 8 or 9 different cookies. She was always trying new recipes.
For summer get together or picnics she would always bake a pound cake. When I got older I asked her why she always took a pound calce and she explained that it was rich cake that did not need frosting and people could usually carry it in their hands to eat. So no melted cakes. This chocolate sour cream pound cake was a family favorite!
CHOCOLATE SOUR CREAM POUND CAKE
Pamela Lynn Sage, Monmouth, Illinois
1 1/2 cups butter, softened
3 cups sugar
5 eggs
3 cups flour
1/2 cup cocoa
1 teaspoon baking soda
1/4 teaspoon salt
1 cup sour cream -8 ounce
1 cup boiling water
2 teaspoons vanilla extract
Cream butter; gradually add sugar, beating well. Add eggs one at a time, beating well after each addition. Combine flour, cocoa, soda and salt; add to creamed mixture alternately with sour cream, beginning and ending with flour mixture. Mix well after each addition. Add boiling water, and mix well.  Stir in vanilla. Pour batter into a greased and floured 10-inch tube pan. Bake at 325 degrees for 1 hour and 20 minutes or until cake tests done. Cool cake in pan 10 to 15 minutes; remove from pan, and cool completely on a rack. Yield one 10-inch cake. Dust with powered sugar.