Greater Midwest Foodways Alliance
FAMILY HEIRLOOM RECIPES
Picnics and Family Reunions
South Dakota State Fair
August 31, 2014
Contestant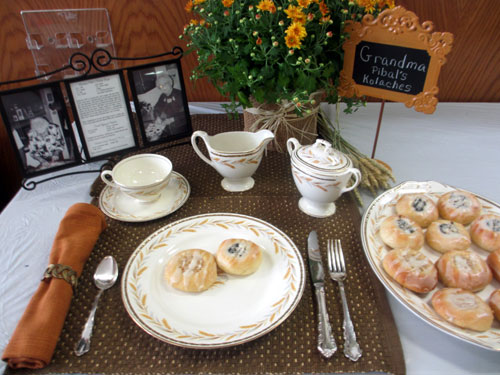 (Image by Catherine Lambrecht)
GRANDMA PIBAL'S KOLACHE RECIPE
Tammie Dewald, Milbank, South Dakota
Hi! My name is Tammie DeWald from Milbank, SD. I'm going to share with you Grandma (Lillian) Pibal's Kolache recipe passed down to me from my mother-in-law Joyce DeWald. Joyce is the only daughter of Lillian Pibal. This recipe has been made by six generations that we know of for sure.
SIX GENERATIONS:
Born 11-1-1848; Died 11-1-1921      Katherine Hlavac – mother-in-law of Albina
Born 8-8-1891; Died 7-11-1969        Albina Hlavac – Katherine's daughter-in-law
Born 11-30-1919; Died 9-13-2009    Lillian Pibal – Albina's daughter
Joyce DeWald -Lillians's daughter
Tammie DeWald – Joyce's daughter-in-law
Michaela DeWald – Tammie's daughter
I'm going to share with everyone Lillian Pibal's (my husband's grandmother) famous Kolache recipe story and about Kolaches. Kolaches are a traditional Czech pastry with fruit or other fillings of your choice. A crumb topping before baking and powdered sugar frosting afterwards also goes on top to complete them. Kolaches are time consuming but when served to the right Bohemian crowd or others, believe me, your time in the kitchen will be well worth it with smiles on everyone's face. The most favorite filling in our family is the Solo poppy seed filling in a can for convenience. Our youngest daughter, Michaela, 18, loves them and has also made the recipe along with me.
Patience and precision are needed to make excellent Kolaches. When scalding the milk, you need to make sure it does not boil. You, also, do not want to overwork the dough to avoid toughness. You need to get It to the right consistency which is not too sticky or not too floury. For the filling, you can use pie filling straight from the can, or you can make a homemade filling. Grandma Pibal, as she got older, used fillings from a can. I used Solo poppy seed and apricot fillings from a can like Grandma Pibal for convenience.
This recipe makes 3 dozen. Kolaches are best served within the first two days. They can be frozen. I made 2 batches this past week and froze them. I used white flour in one batch and whole wheat flour in the other batch. Grandma Pibal's children have experimented using other ingredients or flours. Grandma Pibal and her husband, Adolph, had five sons and one daughter together.
Kolaches, pronounced KOH-Iach-ees, are sweet buns that have been served at every picnic, family reunion or any kind of celebration on my husband's mother's side. My husband and I have been married for 31 years. Kolaches were always served at Grandma Pibal's home with coffee along with sugar and cream. Grandma Pibal passed away on September 13, 2009, but her children, grandchildren and great-grandchildren continue the family tradition. Even at Grandma Pibal's funeral, Kolaches were served to everyone. Everyone held a Kolache up towards Heaven and a toast was made by her son, Mel Pibal, in her memory.
South Dakota lawmakers have debated whether to make the Kolache the state's official dessert.  Kolaches are usually round but can be made in different shapes and sizes. Some are the size of a pie and some are as small as silver dollars in the Czech Republic. Every Kolache recipe is a bit different, varying slightly among families. Grandma Plbal's relatives have different Kolache recipes that they use but this recipe has been passed down to six generations since 1869. That year in Czech Republic to Katherine Hlavac when she was 21 years old being the first known relative making this Kolache recipe. Joseph and Katherine Hlavac homesteaded in 1882 at Utica, SO. They came from Tabor, south of Prague, in what is now the Czech Republic. Katherine Hlavac passed it down to her daughter-in-law, Albina Hlavac. Albine Hlavac passed it down to her married daughter, Lillian Pibal. Lillian passed it down to her married daughter, Joyce DeWald and five sons. Joyce passed it down to her daughter-In-law, Tammie DeWald along with granddaughter, Michaela DeWald.
The rugged Czech terrain and thick forests made travel difficult centuries ago and allowed for the development of very different Kolache recipes over time in the homeland. The recipes have changed more over the years in both the United States and the Czech Republic. No two recipes are alike.  Each family has its own recipe and I'm proud to say, known to us, this recipe has been passed down through six generations for a total of 145 years.
The spelling of Kolache varies. In English, it can be spelled Kolace, Kolachki, Kolacky, Kolachky and Kolatchie. Kolaches were largely known as an ideal choice of breakfast or dessert at Grandma Pibal's, but family and friends enjoyed them with tea or coffee any time at her home. Grandma Pibal
brought them everywhere. Everyone knew if Grandma Pibal was coming for a visit there would be Kolaches to eat also. Kolaches are one of Czechoslovakia's national pastries.
Grandma Pibal was a kind, gentle and giving lady to everyone and a treasure to be around. She would be proud of me in entering this Family Heirloom Recipe Competition. Family was very important to her and she always put them first in her life. She would want everyone to treasure her Kolache recipe, a Czech pastry, and keep the recipe as a longstanding family tradition. Grandma Pibal would want everyone to take one and enjoy each other's company while eating her Kolache roll recipe at the 2014 State Fair that her grandson's wife made from scratch.
When it comes to my place setting, the wheat dinnerware set came from the DeWald side. My husband's grandparent's Alvina & Alvin DeWald passed the set down to my mother-in-law Joyce DeWald.  The dishes have been in the family for over 77 years. The silverware set was my parent's wedding set and it is over 54 years old. The rest of the decor belongs to me. There's a couple of pictures of Grandma making Kolaches and the entire recipe in the frame.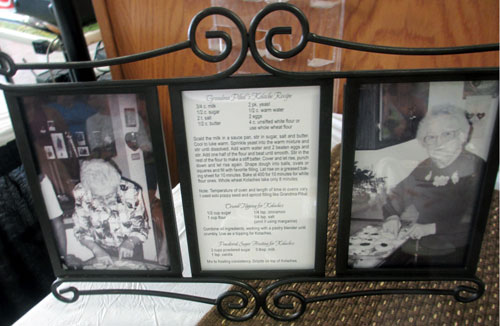 (Image by Catherine Lambrecht)
GRANDMA PIBAL'S KOLACHE RECIPE
Tammie Dewald Milbank, South Dakota
3/4 c. milk
1/2 c. sugar
2 t. salt
1/2 c. butter
flour
2 pk. yeast
1/2 c. warm water
2 eggs
4 c. unsifted white flour or use whole wheat
Scald the milk in a sauce pan, stir in sugar, salt and butter. Cool to lukewarm. Sprinkle yeast into the warm mixture and stir until dissolved. Add warm water and 2 beaten eggs and stir. Add one half of the flour and beat until smooth. Stir in the rest of the flour to make a stiff batter. Cover and let rise, punch down and let rise again. Shape dough into balls, ovals or squares and fill with favorite filling. let rise on a greased baking sheet for 10 minutes. Bake at 400 for 10 minutes for white flour ones.Whole wheat kolaches take only 8 minutes.
Note: Temperature of oven and length of time in ovens vary. I used solo poppy seed and apricot filling like Grandma Pibal.
Crumb Topping for Kolaches
1/2 cup sugar 1/4 tsp. cinnamon
1 cup flour 1/4 tsp. salt (omit if using margarine)
Combine all ingredients, working with a pastry blender until crumbly. Use as a toppingfor kolaches.
Powdered Sugar Frosting for Kolaches
2 cups powdered sugar
1 tsp. vanilla
3 tbsp. milk
Mix to frosting consistency. Drizzle on top of kolaches.