Greater Midwest Foodways Alliance
FAMILY HEIRLOOM RECIPES
Picnics and Family Reunions
Missouri State Fair
August 9, 2014
Contestant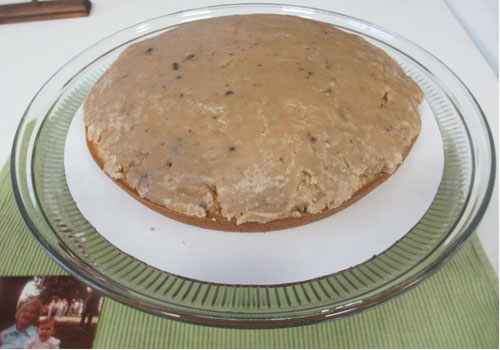 (Image by Catherine Lambrecht)
Skillet Cake
Melissa Hunton, Sedalia, MO
This is an oral recipe. I was never able to find a written copy from any of my relatives, but they knew all about it and were able to recite the recipe to me. This cake recipe has been passed down from my Great-Great Grandma through generations to me. They used this cake recipe as one of their only forms of dessert during the depression because they were so poor. At all family "get-togethers" with my great-great grandma and great grandma, one of them would make this cake for one of the desserts to be served.
My aunt remembers that all of the grandchildren loved the Burnt Sugar Icing. When ever they would get a chance they would sneak in the kitchen and "pick" a piece of icing off the cake. Then when it was time for desert, the cake would almost be "bald" from all the grandchildren getting an early taste.
So at future "get-togethers," my great grandma would make extra icing so that the grandchildren could just eat the icing.
Skillet Cake
Melissa Hunton, Sedalia, MO
Cake:
1 cup sugar
2 eggs
1 cup flour
1 teaspoon baking powder
1 teaspoon vanilla
Light Cream
Burnt Sugar Icing:
1 1/2 cup sugar
1 cup milk
1 Tablespoon butter
1 teaspoon vanilla
Cake:
In a one cup measuring cup, place two eggs. Fill rest of measuring cup with cream to the top. In a large bowl, combine sugar, eggs and cream and stir with a fork until blended smooth. Add flour and baking powder and beat with fork until almost blended then add vanilla. Continue to beat with fork until all lumps are gone. Grease and preheat 8-inch iron skillet. Pour batter into skillet and bake in a moderate oven (350°F) for 30 minutes.
Burnt Sugar Icinq:
On stove top, in an iron skillet, cook sugar until it starts to melt. Then pour in milk and cook until soft ball stage (drop by teaspoon into a cup of cold water, will form a ball). Remove from heat and butter and vanilla. Beat with fork until spread able.
Yield: 12 pieces