Greater Midwest Foodways Alliance
FAMILY HEIRLOOM RECIPES
Picnics and Family Reunions
Minnesota State Fair
August 17, 2014
Contestant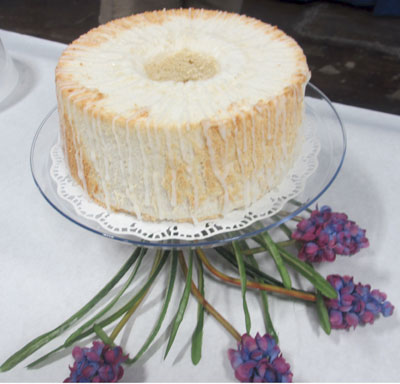 (Image by Catherine Lambrecht)
Our Family Angel Food Cake
Lori Beach, Maple Grove, Minnesota
This is my grandma Florence's recipe. She was proud Chief Of Policeman's wife, homemaker and beautician in Sioux City, Iowa. She first made this angel food cake in 1920. She was in the policeman's wife axillary and would make them for the group. She always said "I'll just whip up an angle food". She gave this recipe to my mom in 1952 and my mom taught my 3 siblings and I when we were I High School 35 years ago. Now I have taught my 2 sons (her great grandchildren) and it is in their hands to pass it on. It has been an active recipe in our family for 4 generations.
My grandma entered this cake in the Minnesota State Fair one time only, and won a Blue Ribbon. Since then, my mom my siblings and I have entered and competed against each other. My mom always the top winner. There is always at least 1 angle food at every holiday or family get together. This is a staple food we will never forget. What makes it special is the great flavor of almond and light fluffy consistency, from the powdered sugar that melts in your mouth. What makes it special for me is that I think of my grandma Florence every time I make it, serve or give one away.
I know she would be proud of me that I am keeping this tradition going in our family.
Our Family Angel Food Cake
Lori Beach, Maple Grove, Minnesota
1-1/2 cups egg whites ( 10 ex lg eggs)
1 cup cake flour
1-1/2 cups powdered sugar
1-1/2 tsp cream of tarter
1-1/2 tsp vanilla extract
1 tsp almond extract
1/4 tsp salt
1 cup sugar
Directions:
1. Separate eggs, discard yolks or save for another use. Place in a large mixing bowl and set aside for about 1/2 hour to hour. This will make the cake rise higher if there not so cold.
2. Sift confectioners sugar, flour together twice. In a small bowl set aside.
3. In a mixer pour egg whites in the bowl, beat at medium speed until the eggs look foamy. Add cream or tartar, vanilla, almond and salt to eggs whites and beat on medium speed until soft peaks form. Gradually add sugar 2 tablespoons at a time beating at high speed until glossy peaks form and sugar is dissolved. When dipping a rubber spatula in the egg mixture the whites should stand up at a peak.
4. Gradually fold flour mixture by hand about 1/2 cup at a time.
5. Gently spoon into an ungreased 10 inch tube pan. Bake on the lowest oven rack at 330 degrees for 35 minutes. Immediately invert pan on a pop bottle to cool. About 1 hour.
6. Run a knife around the side of pan and invert on to a plate. Run a knife around the top of the cake and remove the funnel.
Butter cream Frosting:
1/3 cup softened butter
3 cups powered sugar
3 tsp milk
1 tsp vanilla
1 tsp almond
Directions:
Beat all frosting ingredients in mixer until smooth. Frost cake by drizzling it on the top and let it run down the sides. Serves 12.