Greater Midwest Foodways Alliance
FAMILY HEIRLOOM RECIPES
Picnics and Family Reunions
Indiana State Fair
August 7, 2014
Contestant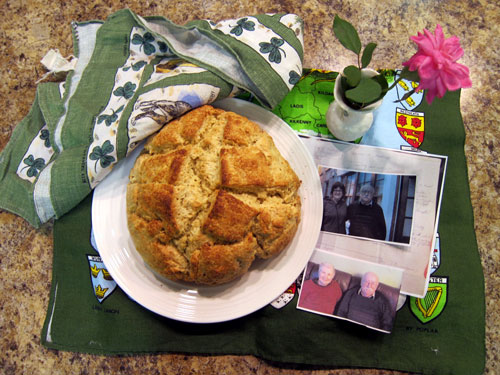 (Image by Peter Engler)
Irish Soda Bread
Nora Spitznogle, Indianapolis, Indiana
I was lucky enough to visit Ireland this spring with my parents and sisters. I was on a quest to find the family of my great-grandfather, Cornelius O'Donoguhue, who settled with his young family in Cass County, Indiana in the late 1800s.
I rented a thatched-roof cottage in the Ballangary, County Limerick, where he was born. Mom and I spent a week talking to people on the street, in church, in the market, and visiting pubs in hopes of finding a connection. After a week we met a man walking through the churchyard who directed to the location of the old family farm land. A visit to the pharmacy let us to the town undertaker and he remembered a relative the next town over – Sean Kelly.
We spent a morning in Newcastle West trying to find Sean, and finally got a tip that he and his family lived down the street in the house with the "brown door." Since most of the doors were brown I picked the house with the prettiest curtains. A lovely woman answered the door and I started my spiel, "Hello, I'm from Indiana in the United States and I think your husband is related to my great-grandfather." Mary Kelly didn't seem surprised in the least, and yelled "Seanie, you have relatives at the door:'
Their home was one of several single-story row houses, and Sean's family had lived there for generations. I got goose bumps at the thought that my great-grandfather had been in that very room! As we compared family trees and told stories, Mary and their beautiful daughters (my fourth cousins, once removed!) served us a delicious treat of homemade jam and soda bread with a cup of tea and a spot of Irish whiskey. When asked for the bread recipe, Mary looked more shocked than when I appeared at their door. Soda bread was something that every woman just knew how to make – no recipe needed. She gave me the list of ingredients and I've spent the last six months tweaking the recipe and honoring the Irish heritage that my great-grandfather and his young wife brought to rural Indiana generations ago. Slainte!
I purchased Belleek everyday dishes and the tea towel on this trip. The vase is from my dear mother.
Irish Soda Bread
Nora Spitznogle, Indianapolis, Indiana
4 c. all-purpose flour
1/4 c. white sugar
1 t. baking soda
1 T. Clabber Girl baking powder
1/2 t. salt
3/4 c. butter, divided. 1/2 c. softened, 1/4 c. melted
1-1/4 c. buttermilk, divided
1 egg
Preheat oven to 375 degrees. Lightly grease a large baking sheet.
In a large bowl, mix together dry ingredients and 1/2 c. softened butter. Stir in 1 cup of buttermilk and egg. Turn dough out onto a lightly floured surface and knead slightly. Form dough into a round ball and pat into an oval shape and place on the baking sheet. In a small bowl, combine melted butter with 1/4 cup buttermilk; brush loaf with this mixture. Use a sharp knife to cut an 'X' into the top of the loaf.
Bake loaf until a toothpick inserted into the center of the loaf comes out clean, 45 to 50 minutes. Check for doneness after 30 minutes. You may continue to brush the loaf with the butter mixture as it bakes.