Greater Midwest Foodways Alliance
FAMILY HEIRLOOM RECIPES
Indiana State Fair
August 9, 2013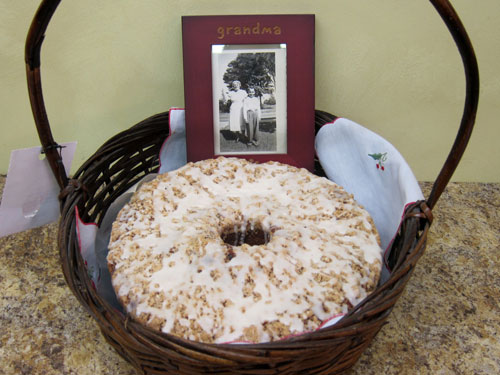 (Image by Peter Engler)
Contestant:
Babka (Grandmother's Sweet Bread)
Christine Rienecker, Indianapolis, Indiana
Babka is a shortened form of Babuska, which is a scarf that Polish ladies wear, especially the grandmothers. The Babka or Grandmother's Sweet Bread is a cross between a cake and a bread. It is usually baked by the Polish for Christmas Eve dinner or for Easter, and any other special family celebrations. My grandmother brought the Babka recipe from Poland.
Since it is a rich dough, it takes longer to rise. My mother would start early on Christmas Eve morning to set up the dough. She would put the bowl with the dough near a register so that it would have a warm place to rise.
My mother, grandmother and aunts prepared many traditional dishes for Christmas Eve dinner. Since most Poles are Catholic, they serve no meat, but rather fish, along with a meatless borscht, appetizers, fruits, sauerkraut and meatless pierogis.
The house is cleaned until it sparkles, and the best tablecloth, dishes and silverware adorn the family table. A handful of straw is placed in the center of the table to remind everyone of the coming of Baby Jesus. An extra plate is set at the table to welcome the stranger that might knock on the door. Oplatak (pronounced oooh-plah-tack) – or blessed wafer – is placed on everyone's plate. Each family member offers his or her wafer to the other members. Each person breaks off a piece of the extended wafer and wishes the person holding the wafer health, wealth and happiness for the coming year. The father leads the prayer before meals and everyone enjoys the food and camaraderie.
After the Babka, cookies and cheesecake have been eaten and the last toasts offered (my Babu/grandmother made the brandy!), everyone goes to midnight Mass which is said in Polish at Our Lady of Czestochowa (pronounced ches-toe-ho-va) Catholic Church.
Contestant:
Babka (Grandmother's Sweet Bread)
Christine Rienecker, Indianapolis, Indiana
Coffee Cake
3/4 cup milk
1 yeast cake or 1 package yeast
1 teaspoon vanilla extract
1/2 cup plus 1 teaspoon sugar
3 1/2 cups all-purpose flour
1 teaspoon salt
1 1/2 sticks soft butter
3 extra-large egg yolks
1 teaspoon grated lemon rind
1 cup golden raisins
3 tablespoons butter for greasing bowl and tube pan
Topping
1/2 cup flour
1/4 cup sugar
1 teaspoon cinnamon
4 tablespoons soft butter
1 beaten egg white
Glaze
1 cup powdered sugar
2 tablespoons milk
1/4 teaspoon vanilla extract
Heat milk to lukewarm (1100 to 1150 F). Add yeast, vanilla and 1 teaspoon sugar. Stir and let proof.
In large bowl of mixer, combine 1/2 cup sugar, flour and salt; cut in butter. Add egg yolks to milk mixture, stir well and add to flour mixture. Add lemon rind. Beat for 5 minutes or until dough is smooth. Turn dough out on a floured surface and knead for 5 minutes. Add raisins, knead for 2 to 3 minutes or until dough is smooth and satiny. Use 1 tablespoon butter to grease bowl. Place dough in bowl, turn once, cover and let rise in a warm place until doubled in bulk. Use remaining 2 tablespoons of butter to grease a 10-inch tube pan and set aside.
Remove dough from bowl, knead to remove air bubbles, place in pan, cover and let rise until doubled in bulk.
Meanwhile, prepare topping. Combine flour, sugar and cinnamon in a small bowl, cut in butter and set aside. When dough has doubled, uncover and carefully brush top with egg white and sprinkle on topping.
Preheat the oven to 350°F. Bake for 50 to 55 minutes or until golden brown and toothpick inserted in center comes out clean. Place on wire rack. After 5 minutes remove from pan and cool on rack.
Combine all glaze ingredients in a small bowl. Drizzle glaze over cake. Let set, serve.
Yield: 1 10-inch cake