Greater Midwest Foodways Alliance
FAMILY HEIRLOOM RECIPES
Illinois State Fair
August 11, 2017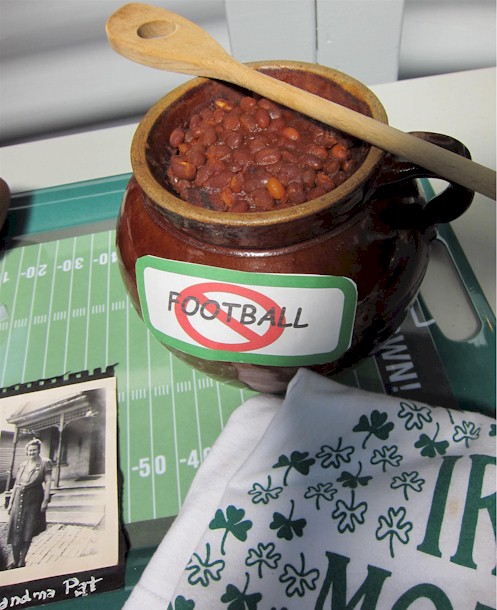 Contestant
Beans N'Such
Mary Gillespie, Springfield, Illinois
ca. August 1947, Springfield, IL … Dick Gillespie, his "li'l brother" Roy, and best friend Joey Hildebrand headed out to enjoy a few hours at the state fair. After their fair visit, the trio was scheduled to paint the new apartment for Dick and his wife. As the three Northenders* departed for the fairgrounds, Dick and Roy's mother (aka Grandma Pat Gillespie), spoke up. They were to bring her something from the fair – a crock, for her baked beans. She described it as 'shiny brown' (read: glazed).
After a few hours of fun, the three figured they should get home and began walking towards the Exit. Uh oh, don't forget mom's bean pot, brown and shiny. Got it. The mile and a half walk home from the fairgrounds would wind them through Lincoln Park. Final destination, the 200-block of East Calhoun. Gosh, a mile and a half can get boring.
Family lore has it that one of the young men had a great idea. Like many of history's great ideas, it was a little fuzzy as to who actually (was to blame) is credited as having originated the idea. Dick remembered it was Joey or Roy. Joey thought it was Roy or Dick. Lastly, Roy pled the Fifth (or drank one).
THE GREAT IDEA – football! Well, it would pass the time as they walked. Aw, can't play football. No football. Let's use the bean pot. Yeah. We're not gonna break – we're gonna catch it! The first two passes were without consequence; so, the tossing continued. One of them went out for the long pass. Thus proving the third time IS NOT always a charm.
Grandma Pat never got her crock from the fair – that year. However, over the years, a glazed, brown stoneware bean crock made its way into her kitchen. To this day, family and friends still enjoy delicious baked beans – from Grandma Pat's recipe.
NOTE – betwixt the story and the recipe, the terms 'baked' and 'crock' has to make one smile! *Northender – term of endearment for denizens of the northern area of Springfield.
The Gillespie family's Irish-Scottish lineage makes it quite easy to add Jameson to an endless number and types of the family's recipes (appetizers, entrees, side dishes, dessert, etc).
Contestant
Beans N'Such
Mary Gillespie, Springfield, Illinois
Baked Beans!… I'll drink to that 😉
A crowd-pleasing, tasty recipe, loved by leprechauns and hungry guests, alike.
BEANS n'SUCH
1 # dry navy beans                  4 C beef stock
4 C water                                  1 med sweet onion – fine chop
1 clove garlic – minced           5 sl thick-cut bacon – chop into pieces
SAUCE
2 C water                                                       3/4 C barbecue sauce [chef's choice]
1 C light brown sugar                                 1/4 C ketchup
2 TBL molasses                                           1 C Jameson Irish Whiskey
1.5 TBL ground mustard                           1/4 C apple cider vinegar
2 TBL Worcestershire sauce
> Night before – place beans in a larger pot and cover with water. Soak overnight…drain the next morning.
> Combine 4 cups of water plus 4 cups beef broth in a Dutch oven – add (drained) beans.
> Bring beans to a boil. Simmer for 30-40″ – drain.
> While beans are cooking – put bacon in a large skillet over MED heat.
> Cook bacon until crispy, and fat is rendered.
> Remove bacon from pan – drain on a brown paper grocery bag.
> Leave about 2 tablespoons of bacon grease in the skillet.
> Reduce heat to MED-LO
> Add onion, cook for 8-10″, until translucent.
> Add in garlic, cook for 30 seconds, remove from heat. Set aside.
> In a 7 qt slow cooker, add water, barbecue sauce, brown sugar, ketchup, molasses, Jameson, ground mustard, vinegar, and Worcestershire sauce – whisk well to combine.
> Add in the beans, and the onion-garlic-bacon mixture (include bacon fat – optional).
> Cover and cook on LOW for 10-12 hours, stirring occasionally, (see Note)
> After 10-12 hours, turn slow cooker to the WARM setting or turn OFF completely.
> Let the beans sit anywhere from 30″ to 2 hours. This will help the sauce thicken.
Note: after 10-12 hours the liquid may still seem soupy. You have to allow the beans sit on the LOW or OFF setting – staying covered). This will result in a thick and syrupy sauce.