Greater Midwest Foodways Alliance
FAMILY HEIRLOOM RECIPES
Illinois State Fair
August 12, 2016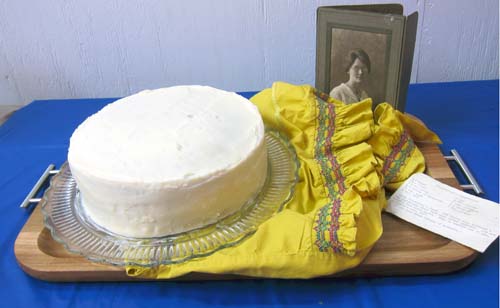 (Image by Peter Engler)
Contestant:
Grandmother's Gingerbread Cake
Gail Long, O'Fallon, Illinois
When I was young, our family didn't have much, so we never received much in the way of birthday presents. My mother would always bake us a birthday cake, though. As a child, however, I was a problem for my mother. I didn't like cake. Every year she would make me a beautiful cake and I would refuse to eat any. This went on for several years, much to her chagrin. One fall, though, she caught me grabbing crumbs out of the pan that she had used to make a gingerbread cake for the family. When my birthday rolled around, she put a gingerbread cake on the table and I gladly ate a piece. She always referred to it as "Grandmother's Gingerbread Cake." I never thought to ask her if she meant my grandmother or her grandmother, so I will never know, but it solved the situation I had presented her with. Later she added the frosting, knowing how much I loved cream cheese, and I have changed it from a 9×13 single layer cake to a cake made in two 9-inch round pans.
Contestant:
Grandmother's Gingerbread Cake
Gail Long, O'Fallon, Illinois
1/2 c. sugar
2-1/2 c. flour
1 c. hot water
1/2 c. butter
1-1/2 tsp. baking soda
1/2 tsp. salt
1 egg
3/4 tsp. cloves
1-1/2 tsp. cinnamon
1 c. molasses
1-1/2 tsp. ginger
Icing:
16 oz. cream cheese
8 c. powdered sugar
1-3 Tbsp. milk
1/2 c. butter, softened
2 tsp. vanilla
Cream butter and sugar. Sift together flour, baking soda, salt, cloves, cinnamon, and ginger. Add beaten egg, molasses, and flour mixture together. Add hot water and beat until smooth. Grease 2 9-inch round baking pans. Pour in batter and bake 35 minutes at 350 or until cake tester comes out clean. Cool slightly in pans, then turn out and completely cool.
Beat cream cheese and butter until blended. Add vanilla. Add powdered sugar. Start with 1 Tbsp. milk and add more if necessary. Place one layer of cake on cake plate and frost. Top with second layer and completely frost.