Greater Midwest Foodways Alliance
FAMILY HEIRLOOM RECIPES
Picnics and Family Reunions
Illinois State Fair
August 8, 2014
Contestant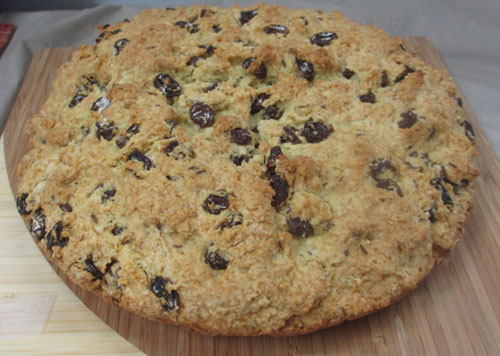 (Image by Catherine Lambrecht)
THE KENNY FAMILY IRISH SODA BREAD
Margaret Baucom, Scott Air Force Base, Illinois
This recipe has been part of my Irish heritage for over 90 years.
On August 5, 1922 my mother, Alice Kenny, departed County Leitrim Ireland at the age of five with her parents and three siblings. After an eight-day crossing, they arrived aboard the SS Belgic at the port of New York.
Growing up in Rye, New York I can remember watching my grandmother and mom prepare this humble recipe in our welcoming kitchen. After all the dry and wet ingredients were stirred together and combined, they placed the dough in a cast iron skillet. My mom would make a cross mark on top of the loaf ­a decoration symbolizing our Catholic roots.
After it was baked, we would sit together at the kitchen table and savor each slice with a pot of tea. My grandmother especially loved this tradition and made sure it would be continued in America.
It is now a custom that I have come to treasure. To this day, I enjoy having a cup of tea and Irish soda bread with my daughter.
THE KENNY FAMILY IRISH SODA BREAD
Margaret Baucom, Scott Air Force Base, Illinois
Adjust an oven rack to the middle position and preheat the oven to 375 degrees Generously coat a 10 1/2 inch cast-iron skillet using vegetable oil spray
Ingredients:
4 cups of all purpose flour
1/4 cup of sugar
1 teaspoon of baking soda
1 teaspoon of baking powder
1 teaspoon of salt
4 teaspoons of caraway seeds
1/2 cup of unsalted butter cut into chunks
1 1/2 cups of raisins
1 egg lightly beaten
1 1/3 cups of sour milk (to sour milk stir in 1 tablespoon of fresh lemon juice and let stand for 5 minutes until thickened)
Directions:
Combine flour, sugar, baking soda, baking powder, salt and caraway seeds. Cut in butter until mixture resembles coarse meal. Add raisins. Combine beaten egg and sour milk. Pour into mixture and combine until just moistened. Gather dough into a ball and press into prepared skillet. Using a knife, make a 1/4 inch deep cross over the dough. Bake in the preheated oven for 45 minutes. Let stand for 5 minutes, remove from skillet and serve warm with butter or jam.