Greater Midwest Foodways Alliance
FAMILY HEIRLOOM RECIPES
Illinois State Fair
August 17, 2013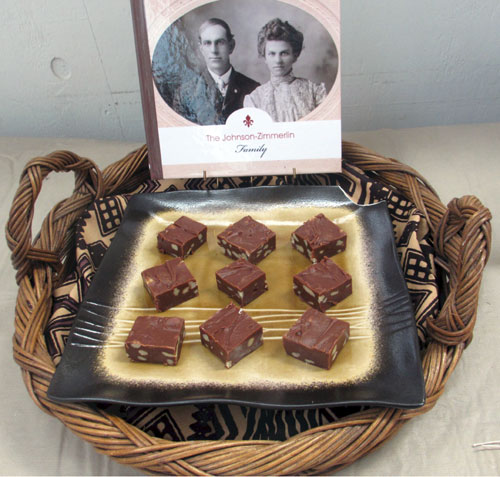 (images by Catherine Lambrecht)
Contestant:
Grandma's Black Walnut Fudge
Nancy Bathurst, Girard, Illinois
My Grandma (Lena Zimmerman) Johnson was born in 1886 in Jebshein, Alsace-Lorraine, France. The family immigrated to the United States in 1893 when she was seven years old.
My grandmother and grandfather (George Johnson) were married in 1910. Six years later, they moved to Illinois and began farming. It was a small family farm, very primitive by today's standards. Even when I was a child during the 1940's and 1950's, they had none of the modern conveniences such as indoor plumbing! Grandma had a stove that burned corncobs to generate the necessary heat for cooking and baking. I cannot imagine how she accomplished all the fantastic meals but she most certainly did.
She tended chickens and sold her eggs in town. Grandpa had a few milk cows and he took the time to show me how to milk the cows (always by hand – no fancy milking machines!). Grandma would then run the milk through a separator and this wonderful very thick cream would be at the top. She would also make her own butter.
As an only child, it was the highlight of my year when we would travel to Sheridan from Ottawa to visit Grandma and Grandpa. It was a time of family and play as we were always joined by my cousins who lived in Sheridan. I was looked at as the "city girl" even though Ottawa was only a town of 19,000.
One summer I wanted to bring my best girlhood friend, Marcia, with me for my week's stay at Grandma's. Mom said it was fine and neither one of us thought to ask Grandma if it was all right. After the week was over, my mom told me Grandma was very upset that I had brought a "city girl" because she was embarrassed that their home was so primitive. Primitive? I thought it was the most fun, wonderful place I had ever been! And so did Marcia!
There were never any fancy desserts at our family dinners but we had something better … the very best sugar cookies you will ever eat and a fudge which, in today's lingo, people would say was "to die for." It was a very simple recipe and I have enclosed a copy written in my mom's handwriting over 50 years ago. It is titled "Mom's Fudge" and the "Mom" referred to is my Grandma Johnson. Over the years my mom and I tried to duplicate this fudge but never had any luck – it just was not Grandma's fudge. Of course, she used her own cream and black walnuts from there very own tree. I now know how difficult it is to just get the black walnuts out of those shells. I remember my husband's father telling me the only way to crack black walnuts was to run over them with a car!
Even though I have been competing at the Illinois State Fair for several years, I had never entered this particular contest. However, when I was reading about it this year, alii could think about was Grandma's fudge. Could I duplicate it if I tried again? A light bulb went off – what if I used the double Devon cream that is used in England for scones? It is very, very thick and looks just as I remember the cream Grandma made. Luckily I found it at a local grocery store in Springfield. Therefore, I gave it a try. Did it come out like Grandma's? Close – not perfect – but close. I thought about displaying the fudge on a beautiful pedestal plate I have but that would not be right. Grandma never had such a plate; her fudge would be served on a plate that may be cracked or a chip out of it. Although my display may not be pretty, it is fine for Grandma and it pays tribute to a simple but beautiful lady.
Whether or not I receive a ribbon today, I thank the culinary department of the Illinois State Fair and Greater Midwest Foodways Alliance for giving me this opportunity to relive some beautiful memories of this beautiful lady – Grandma Johnson!
Contestant:
Grandma's Black Walnut Fudge
Nancy Bathurst, Girard, Illinois
2 cups sugar
1/3-cup white corn syrup
1/2-cup water
3 – 1 ounce squares of semisweet chocolate
1 – 6 ounce bottle Double Devon Cream
2 ounces heavy whipping cream
1-teaspoon vanilla
1-cup black walnuts
Combine sugar, white corn syrup, water, and chocolate in a heavy saucepan. Cook until it spins a thread. Add Double Devon Cream and heavy whipping cream. Cook until soft ball stage. Remove from heat. Add vanilla and black walnuts. Beat until creamy and thickened. Pour into a butter plate. When cool, cut into squares.