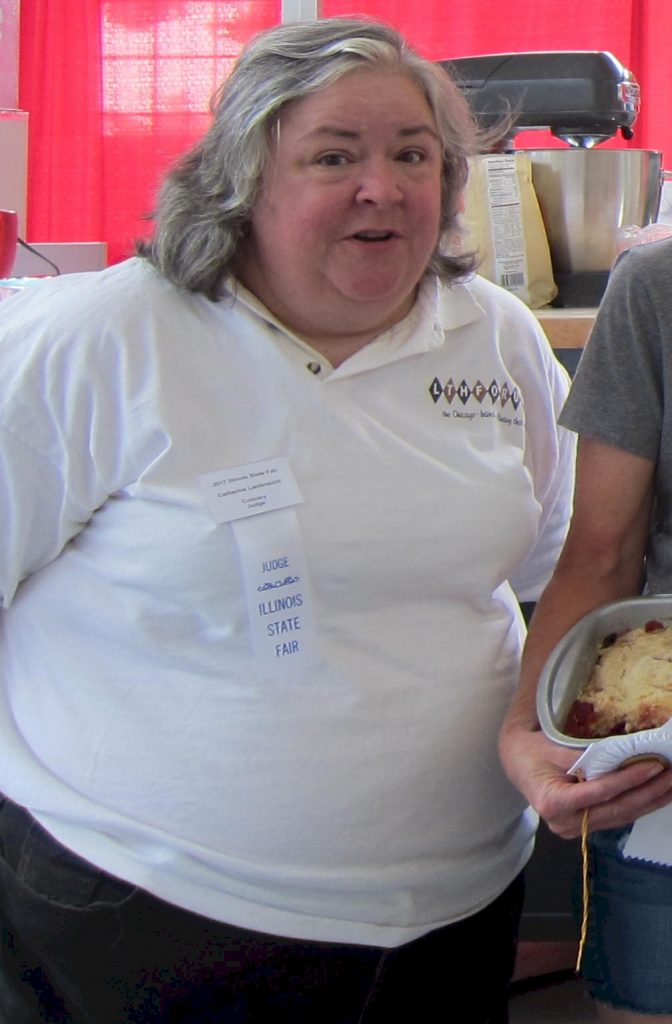 I have always loved narratives which attempt to explain how we got to where we are today via small and mighty ideas, inventions and quirky personalities.


One early morning a long time ago, my parents lingered in bed. Mom and Dad began to smell food cooking. They ran into the kitchen to find my three-year-old self standing on a chair cooking breakfast.


When I was 10-years-old, I had the privilege to live with my Father's German Mother, Helena Lambrecht, for a few months. We always loved Sunday lunches with what I supposed was Oma's food fit for company. I was always curious how Oma ate every day. I soon learned every day was wonderful food. Last night's leftover vegetables repurposed to the next day's lunch of soup thanks to her Osterizer. Leftover pot roast was shredded and served over noodles with a gravy full of fresh mushrooms. Dessert was an apple cake with a generous dollop of Cool-Whip. As much as a whipped cream snob I may be, Cool-Whip is a bold exception because it reminds me of Oma.


My Father remembered his Mother's early attempts at cooking. Fortunately, I came when she had a solid repertoire of reliable recipes and the skills to pull it off. There were the infrequently made dishes, which required a recipe card as a reminder. There were kitchen meals made without recipes from her experience. A meal the family adores, though Oma might not serve to company.


Oma died unexpectedly a few months short of my 16th birthday. Our favorite dinners with Oma were those she never documented, because she just knew what to do. We almost never saw her cooking, because everything was ready when we arrived. She wanted to enjoy our company rather than fuss in the kitchen.


It took two years of trial and error to bring those dishes back to our family's table. Over time all these recipes we almost lost were written and distributed to everyone in the family. The experience of family favorites almost lost has been a hard-earned lesson I have shared often as a cautionary tale.


While living in Massachusetts in the mid-1960's, my Mother joined Homemakers, an organization with strong ties to land grant university extension services. It influenced my association with University of Illinois Extension as a master gardener and master food preserver. As part of my volunteer efforts, I was assigned to judge 4-H food competitions. Wishing for a similar experience, I competed at the county and state adult-level food competitions with several champion rosettes as proof.


Now you have a good idea how I got to where I am today spending my summer weekends traveling to Midwestern state fairs judging family heirloom recipe contests on behalf of Greater Midwest Foodways Alliance.


***
Catherine Lambrecht was born in Chicago, Illinois, a city and region she has spent most of her life. A graduate of Highland Park's Elm Place School and Highland Park High School.


I prepared my first Thanksgiving meal from scratch when I was 14 years old following a Gourmet magazine recipe for chestnut stuffing. They did not explain how to peel chestnuts, which many cuts on my hands offered silent witness. Later flipping through the Joy of Cooking, I learned I only needed to cut an X and bake briefly in the oven. I began buying cookbooks to avoid reinventing the wheel and teach myself new skills.


From the late 70s to the early 90s, most of her time was spent in Soviet Union and Eastern Europe in a family business selling analytical equipment and lasers. When not working, I was cooking. Simply due to seasonal availability of food in these countries, I became interested in food preservation.


In September 1995, I drove into Chicago for a lecture on Ketchup by Andrew F. Smith at the Culnary Historians of Chicago. I brought along a jar of grape ketchup made on a lark to share. Everyone's interest in my contribution hooked me on the experience of sharing food history.


In early 2000s, I learned of internet food communities who shared ideas at a virtual water cooler. Initially, it was with Chowhound, then later I was a founding member of LTHforum.com, a Chicago Chat Site, which I have been moderating since 2005. We not only talk; we regularly gather to eat and share experiences.


Media appearances


WGN radio Chicago, Nocturnal Journal hosted by Dave Hoekstra
January 1, 2019: Dave Hoekstra, along with Chicago songstress and comedian Molly McGown, welcome Chef Catherine Lambrecht of Greater Midwest Foodways, Charla Draper (formerly of Ebony magazine), and Author Donna Pierce into the studio as they pay tribute to the New Year's Day Good Fortune Tradition of Black Eyed Peas. The women discuss the history of the black eyed peas and how they grew to become a believed staple of good fortune; other traditions that are believed to bring good luck; and much more.

November 17, 2018: Talkin' Green Bean Casserole: History of a Thanksgiving classic
Dave Hoekstra talks with Catherine Lambrecht of the Greater Midwest Foodways Alliance, who shares the historical culinary lineage of the staple Thanksgiving side dish, Green Bean Casserole. Dorcas Reilly, who is credited with creating the 'classic' recipe of the casserole, passed away in October.
January 2, 2016: Dave Hoekstra talks with Catherine Lambrecht of the Greater Midwest Foodways Alliance about what "foodways" are and why they're important, the relationship between food, politics, sociology, geography and cultural history; the function of food as a device to tell stories and more.


Extension 720 on WGN radio Chicago hosted by Milt Rosenberg:
April 1, 2008: Talking food history with Carol Haddix from the Chicago Tribune, Catherine Lambrecht and Bruce Kraig from Greater Midwest Foodways Alliance

April 26, 2012: Culinary Connoisseurs Bruce Kraig, Catherine Lambrecht and Louisa Chu share the history and evolution of different foods in the American Midwest.


April 22, 2012: Julianne Glatz, food writer for Springfield (Illinois) Times and Catherine Lambrecht, Greater Midwest Foodways, talk about Springfield's Horseshoe sandwich on WLS-TV Chicago


: http://abclocal.go.com/wls/story?section=resources&id=9063633
April 13, 2013 (CHICAGO) — Before social media, social movements for women had one important vehicle you might not even think about in that way: the cookbook.


But just how can the lowly cookbook empower women? You can learn about that at an event by the Culinary Historians of Chicago on Saturday, April 20, 2013


Catherine Lambrecht of the Culinary Historians came into our ABC 7 studio to tell us about that and to show us a historic recipe for a "gifta," which has won awards at state fairs .


WGN radio Chicago, Rick Kogan, April 24, 2011 talking about Midwest Eats! Foodways of the Great Depression and Greater Midwest Foodways Alliance


All Things Considered, September 14, 2007 · The Greater Midwest Foodways Alliance is holding a symposium in Chicago on cased meats: hot dogs, kielbasa and all varieties of wurst. It's called "Stuffed: A Journey of Midwestern Sausage Traditions," and chefs, academics and food enthusiasts will gather to discuss and eat the poor man's steak. Michele Norris talks with Catherine Lambrecht, one of the symposium's organizers, about the history and importance of sausage to the cuisine and culture of the Midwest.


Chicago Tonight, WTTW TV Chicago, interviewed by Carol Marin
David Dickson and Catherine Lambrecht talk about LTHforum.com and Chicago's Greater Neighborhood Restaurants, August 29, 2007


Presentations


Illinois Mycological Association
Mycophagy 101: Continuing On! Preparation, preservation, pickling and eating wild, and not so wild, mushrooms! Stephanie Kowalyk and Catherine Lambrecht, May 6, 2019


Family Heirloom Recipes from the Illinois State Fair, An Illinois Bicentennial Project
– Culinary Historians of Chicago, December 8, 2018
– Highland Park Historical Society, January 21, 2019


Zion Garden Club
Mushrooms, October 9, 2018


2017 North American Mycological Association Northwoods Foray
Mycophagy (Cooking and Eating Mushrooms) with Stephanie Kowalyk, September 9, 2017


Finding the Lost Region II: Second Midwestern History Conference
"Reclaiming the Pecan's Roots," Catherine Lambrecht, Greater Midwest Foodways Alliance and Highland Park Historical Society, June 1, 2016


EVERYONE EATS: South Dakota's Food Heritage
South Dakota State Historical Society History Conference
South Dakota's Heirloom Recipes, April 29, 2016


Joint meeting of Chicago Foodways Roundtable and Illinois Mycological Association
Mycology 101: Preparation, Preservation, Pickling and Eating Wild, and Not So Wild, Mushrooms
Stephanie Kowalyk and Catherine Lambrecht, August 3, 2015


The Road Joyfully Traveled: Judging Family Heirloom Recipes at Midwestern State Fairs
– Greater Midwest Foodways Alliance, September 27, 2014
– Highland Park Historical Society, February 24, 2015


"Road Food: Exploring the Midwest One Bite at a Time"
Greater Midwest Foodways Alliance presents fifth symposium
State Fair Heirloom Recipe Contest, April 27, 2012


Culinary Historians of Chicago
The Pie Must Go On — An American Pie Story, November 19, 2011


Hinsdale Public Library
Dining Under the Radar: Western Suburbs and a Bit Beyond, June 22, 2011


Food Preservation Boot Camp, August 21, 2010
with Heidi Hedecker and Catherine Lambrecht


The Midwest: How Sweet It Is!
Sweets: A Journey Through Midwestern Dessert Traditions
Greater Midwest Foodways Alliance presents fifth symposium
Home Baking I: Pie – Pecan Pie, April 5, 2008


The History of Pie in America, which was first presented at the Culinary Historians of Chicago event highlighting the publication of Oxford Encyclopedia of American Food and Drink. 2004
The pie talk has been expanded over the years and reprised:
– Highland Park Historical Society, November 3, 2016
– Whole Foods, November 22, 2005
– Highland Park Historical Society, November 20, 2005


An American Foodie in the USSR, for Culinary Historians of Chicago, August, 1999