Greater Midwest Foodways Alliance
FAMILY HEIRLOOM RECIPES
Wisconsin State Fair
August 3, 2014
Fourth Prize Winner
Fourth Prize:
Carlie Jewell, Wauwatosa, Wisconsin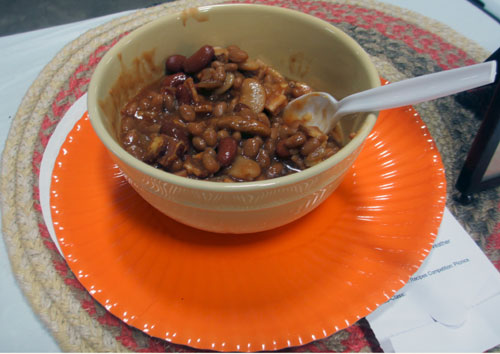 (Image by Catherine Lambrecht)
Fourth Prize:
Crowley Family Bean Pot
Carlie Jewell, Wauwatosa, Wisconsin
The Crowley Family Bean Pot recipe history starts with my grandmother, Adeline Crowley.  Adeline lives in a small, rural town in northern Illinois.  She was a true homemaker.  Her husband Victor, crop dusted, ran the first milk trucks for the local routes, and owned the local tavern.  They had four children: Victoria, Rocco, Valerie and Randy.  Valerie is my mother.  My mom remembers simple home-cooked meal that her mother would prepare for the family, her teachers, neighbors, and, despite some disapproval from others, the homeless men that would pass through on the train cars.  Adeline was known for her kindness and her faith.  Adeline passed away suddenly and unexpectedly when my mom was only eleven years old.  Adeline did not leave a recipe box full of written recipes so my mom learned (through trial and error) to make a few of the dishes that her mother made.  My mom in the absence of her mother needed to help put dinner on the table.  One of the dishes she prepared regularly was a bean pot.  My mom, despite not having a mother to cook with in the kitchen, is an excellent cook.  Growing up on a farm I can remember her always preparing huge breakfasts and lunches for the men whem they would come down to the house for a break from their work.  Her bean pot would appear at 4th of July picnics, 4-H and  church potlucks, and Super Bowl parties.
I learned to cook from my mom.  She always invited me into the kitchen.  We spent countless hours practicing all the of the 4-H cooking projects I would undertake and I would be so proud of my blue ribbons at the fair.  I make a number of my mom's recipes for family gatherins and they are always the dishes that get the most compliments or requests for recipes.  However, when I am asked to bring an item to a picnic it is expected that I bring my bean pot.  I live in Wauwatosa now and every time I make this bean pot in my slow cooker the smell takes me back to my farm girl days and memories wash over me – picnic lunches in the field follow by rides in the bid tractor, potlucks in the church basement with enough home-cooked delicious food to feed a whole town, the way bacon smells when it is being fresh cut, and visions of my mom in her country kitchen busily preparing a huge meal that the entire family cannot wait to eat. I am sure my mom has her own flood of memories when she makes her mother Adeline's bean pot.  I imagine someday my own daughter, Adeline (named after her great-grandmother), cooking family recipes in her kitchen.  Although Adeline's memories will be much different than mine as she is a city kid I am hopeful they will be filled with just as much warmth and love.
The discussion of love may seem silly when I am talking about a bean pot, but then with any heirloom recipes we are not just talking about food.  When it comes down to it many of the recipes passed from generation  to generation are not the fanciest dishes, the most complicated recipes, or even the best tasting — they are the recipes that remind you the most of ones you love.  They are the dishes that when cooked and served take you back, fill you with warm memories, remind you of where you come from, and what is truly important in life – Family.
Fourth Prize:
Crowley Family Bean Pot
Carlie Jewell, Wauwatosa, Wisconsin
1 can (48 oz.) baked beans
1 can (14 oz.) red kidney beans
1 can (14 oz.) butter beans
8 oz. best quality thick sliced bacon, cut in small pieces
1 cup ketchup
1/2 cup packed brown sugar
1/2 cup chopped onion
2 tbsp. cider vinegar
Mix all ingredients in a 3 to 4 quart slow-cooker.
Cook on low 4 to 6 hours.