Greater Midwest Foodways Alliance
FAMILY HEIRLOOM RECIPES
Picnics and Family Reunions
Minnesota State Fair
August 17, 2014
Fourth Prize Winner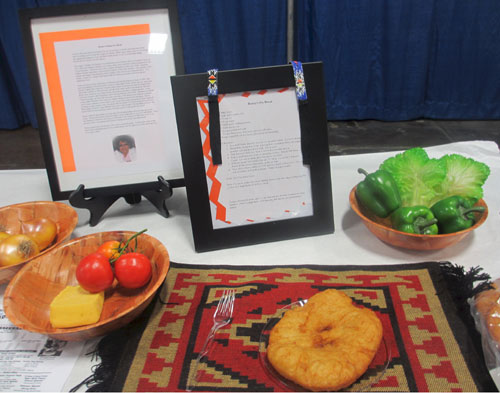 (Image by Catherine Lambrecht)
Fourth Prize:
Bunny's Indian Fry Bread
Anyone who has enjoyed an Indian Taco at a Pow Wow or family gathering knows that there is nothing in world like Indian Fry Bread.  While many recipes exist for the bread, this special one originates from the Black Hawk family on the Fort Berthold Indian Reservation in western North Dakota.
The origin of Indian Fry Bread at Fort Berthold can be traced to the Fort Laramie Treaty of 1851, when the Hidatsa, Mandan and Arikara tribes were resettled to lands designated by the US government.  After relobation and complete disruption of their way of life, American Indians became dependent on government rations to feed their families.  The quantity of the rations was largely unpredictable and the quality of the rations was frequently poor.  As a result, a recipe for a simple fried bread made the rations go further and cover up any unpleasant taste.
Bunny was born inthe small town of Elbowwoods, North Dakota, in June of 1945.  She grew up making Fry Bread with her mother Louise Black Hawk.  When she was nine years old the United States built the Garrison Dam, which extensively flooded the Reservation.  All of the residents of Elbowwoods, and all of the other small towns along the Missouri River, were forced to move their homes, businesses, and dead to higher ground.  A new town was created, called Mandaree, and it became Bunny's new home.  Mandaree's Catholic Church, brought up from Elbowwods at the time fo the flood, soon initiated a summer camp (called Christian Life Camp) for children living in and around Manatee.  Bunny served many summers as the camp's cook.  It was here, while preparing food for hundreds of hungry young campers and counselors, that her family's fry bread recipe was perfected.  What makes Bunny's recipe different from most other recipes?  The kneading process.  She firmly believed that kneading exactly 348 times made for the perfect fry bread.
Bunny believed that family was more than blood relationships; all were welcome in her home.  Bunny and her late husband, Nacho, were Godparents to over 150 individuals.  I first met Bunny at the Christian Life Camp in 1995 and, in the summer of 2004, she stood as my sponsor as I was granted the honor of being received into the tribal family.
Bunny passed away in February, 2014, and is missed by many.  I submit this recipe in her honor and in thanksgiving for the grandmotherly role she played in my life and in the lives of so many others.
Fourth Prize:
Bunny's Indian Fry Bread
2 pkgs yeast
3 cups warm water, div.
1/3 cup oil
1/3 cup sugar
1 tablespoon baking powder
1 tablespoon salt
1 1/2 cups powdered milk
~5 cups flour (read directions, amount will vary)
4 cups vegetable oil for frying (plus more for kneading)
Directions:
1. In a small bowl, dissolve yeast in 1/2 cup warm water.  Let sit 5 minutes.
2. Meanwhile, in another bowl, mix together remaining water, oil, sugar, baking powder and powedered milk.  Stir in yeast.
3. Add flour just until too thick to stir with a wooden spoon.
4. Pour a smal amount of oil in kneading surface.  Knead 348 times.  Cover.  Let rise in warm place for about one hour.
5. Roll out dough into circles that are 1/4″ thick.  Let sit for 5 minutes.  Pierce in the center twice with a knife or fork.
6. Heat oil in a heavy skillet to 375F and at a depth of lest 1 1/3″.  Fry, one side at a time, until golden brown.  Drain on paper towels.
Yield: 12-15 fry bread slices.
Note: For tacos, make the center slightly thinner than the edges during step #5 so that taco ingredients sit well on bread.
If using a KitchenAid mixer, add 2 1/2 cups flour and mix for about 4 minutes on setting number 4.  Switch to dough hook.  Add remaining flour and mix for approximately 5 minutes