Greater Midwest Foodways Alliance
FAMILY HEIRLOOM RECIPES
Wisconsin State Fair
August 3, 2014
Third Prize Winner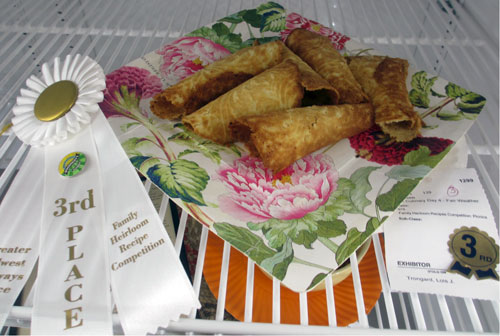 (Image by Catherine Lambrecht)
Third Prize:
Krumkaker (Norwegian Cones)
Lois J. Trongard, Pewaukee, Wisconsin
I was lucky enough to marry into a Norwegian Irish family. My mother in law was full blooded Irish and my father in law was full blooded Norwegian. When I met my husband we were both in our teens and I marveled at some of the Norwegian foods my mother in law had learned to make from her mother in law. One of my favorites was a cookie she made primarily at Christmas called "Krumkaker" or Krumcake as many non Norwegians called this cookie. This was recipe from predates the 1900's, was brought from Norway and translated into English by my husband's great great grandmother.
After I married my husband I became interested in learning how to make these cookies as well as other Norwegian dishes my mother in law made. Little did I know that is would involve cooking the batter with a cast iron cookie press (called a Krumkaker iron) on top of the stove. I can't count the number of times I burned my fingers and hands on the iron before I too perfected the use of the Krumkaker iron without burning some part of my body (and let's not talk about the number of times I started a towel or hot pad on fire making these cookies). Then there was the mishap when I washed what I considered a dirty krumkaker iron in hot soapy water. I thought my mother in law was going to have a heart attackl The problem was you never wash the inside of the iron because it takes the seasoning off the iron and then the batter sticks to the surface of the iron. Only the outside is washed with the inside being wiped with a clean dry cloth to remove any crumbs. The iron inside surface is then oiled and stored in a cool dry place. It took many more batches of cookies before the iron was seasoned enough that the batter didn't stick to it but it only took one time for me to learn my lesson.
Once my children were born I would borrow the Krumkaker iron so I could make batches of these delicate cone shaped cookies for my family to enjoy at the holidays. It was important for me to carry on this tradition to my children and to have them know about the foods of their heritage.
My mother in law and father in law have been gone for many years but their traditions they instilled in all of us still live today. Every time I make a batch of these cookies it brings back wonderful memories of our family gatherings and traditions we had shared and taught our children. Oh and that Krumkaker iron that sailed the seas and came over to America with my husband's great great grandmother, well my mother in law gave it to me. It's well seasoned and is brought out for special occasions and the holidays. These cookies are now one of my grandchildren's favorites and they too are learning about their Norwegian heritage.
Third Prize:
Krumkaker (Norwegian Cones)
Lois J. Trongard, Pewaukee, Wisconsin
Sift together in a bowl and set aside
1 1/2 cups flour
1/2 cup cornstarch
1 1/2 teaspoon cardamom
In a large bowl cream until softened
1 cup butter
Add gradually, creaming until fluffy after each addition
1 1/4 cups sugar
Beat in one at a time, until thoroughly blended
3 egg yolks
Add dry ingredients in fourths, mixing well after each addition.
Beat until rounded peaks are formed
3 egg whites
1/8 teaspoon salt
Spread egg whites over batter and gently fold together.
Heat krumkaker iron until a drop of water sputters on its hot surface.
Spoon about 1 1/2 to 2 teaspoons batter onto hot iron. Close krumkaker iron and cook on each side for .a few seconds or until lightly browned.
Immediately remove wafer with a spatula and roll onto wooden cone. Cool completely. About 4 dozen.