Greater Midwest Foodways Alliance
FAMILY HEIRLOOM RECIPES
Family Favorites Never Served to Guests
(or whatever you like)
South Dakota State Fair
September 6, 2015
Third Prize Winner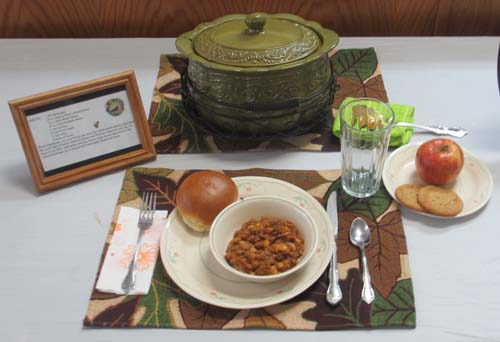 (Image by Catherine Lambrecht)
Third Prize:
Hamburger and Beans
Sheryl Kloss, Tulare, South Dakota
If you are in the field helping, running for parts, gardening, doing chores or getting children where they need to go it always seems like it takes longer than you planned or comes up without warning.
Putting a healthy meal on the table in a hurry calls for quick thinking and easy preparation. My hamburger bean dish is I find a scratch meal that takes less than 1/2 hour to make. I would never probably have it for a company meal but it sure satisfies a hungry families appetite along with a glass of milk it is a meal pleaser.
There is always hamburger in the freezer. Brown it up add your choice of beans. I like Bush Baked Beans, Northern Beans and Butter Beans add some bacon, ketchup, onion and you have meal. It is a lot like Calico Beans that my husband likes so much and it was always what he made when he was left to cook a meal for the kids.
This recipe has been a family favorite for the 50 years we have been married and our children are still pleased to see it on the table. It comes from a history of when Mothers had to soak their beans and leave them simmer on the back of the stove for hours or days. Always ready for a meal with addition of hamburger or left over roast beef it was a staple for many farm families.
Now with beans in a can readily available it is a time saver satisfying meal for all.
Third Prize:
Hamburger and Beans
Sheryl Kloss, Tulare, South Dakota
RECIPE: 2 lbs hamburger
28 oz original Bush's Baked Beans
16 oz Baby Butter Beans
16 oz Great Northern Beans
1 cup ketchup
1/2 cup brown sugar
1/2 cup onion
8 slices of bacon
Brown hamburger in a dutch oven size pan, cut your bacon and onion into small pieces and fry until done. Mix in all cans of beans I drain the Butter and Northern beans but you can use liquid if you wish. Add beans, ketchup, brown sugar bacon, and onion to the cooked hamburger let it simmer until thoroughly heated and serve .