Greater Midwest Foodways Alliance
FAMILY HEIRLOOM RECIPES
Ohio State Fair
August 3, 2013
Third Prize Winner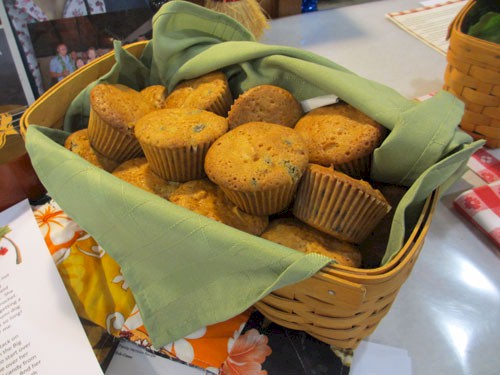 (Image by Catherine Lambrecht)
Third Prize:
Gramma Hawaii's Mele Kalikirnaka Fruit Cake Cups
Nancy Radke, Gahanna, Ohio
November, we lost our Gramma Hawaii. She was such a fun soul and amazing person that I wanted to dedicate this entry to her.
She was born Elaine Hisano Kurokawa on the Big Island of Hawaii near Waimai which is at a top of a mountain. If often rains every day there, not what you think of when you think of paradise. She was a part of a big native Hawaiian family – which were also Japanese American. They held tight to their Japanese heritage – as well as their Hawaiian traditions. She was famous for her make amigurumi – which is a Japanese type of crochet. Every family member including great-grand kids looked forward to getting a new creation every Christmas or special occasion. I got my amigurumi dog for my 50th birthday -I remember she hated making it since it was so long! I really appreciated her extra effort! It's now a treasured item for me.
Gramma endured many hardships. She was a child when the attack on Pearl Harbor happened. They all were sent to a prison camp on the Big Island until the end of the war. They lost everything – having to start over again. Her youngest sister died when her dad accidently drove over her when backing out of the drive – she was after another piece of candy from her dad. She lost a daughter to breast cancer about 10-years ago. And her husband, the day he was to retire from the building industry, fell through the roof of a building he was inspecting to his death.
Gramma was strong willed and pushed through all these tragedies for the sake of her family. I will always remember her smiling, never complaining about her troubles or pains. She enjoyed watch Japanese soap operas and the blooms on the cherry trees in the spring. She loved to eat poi (taro root), drink tea, and play the ukulele.
'Her fruit cake was a special holiday treat she make at Christmas time – or as they say in Hawaii, Mele Kalikimaka!
Third Prize:
Gramma Hawaii's Mele Kalikirnaka Fruit Cake Cups
Nancy Radke, Gahanna, Ohio
12-oz seedless raisins
12-oz mixed topical dried fruit
1/3 cup brandy
1 cup butter – softened
1 1/3 cup cane sugar
1/3 cup com syrup
5 eggs
1/2 teaspoon lemon extract
2 1/2 cup flour
1 1/4 teaspoon baking powder
1 teaspoon salt
1. In a medium sauce pan, combine dried fruits with brandy. Bring to simmer; stirring often. Cover with lid and cook on low for 5 more minutes. Remove from heat; cool slightly before adding to rest of ingredients.
2. Preheat oven to 300 degrees. In a large bowl, cream butter, sugar & syrup with electric beaters until smooth. Add eggs, one at a time; mix on medium speed until combined. Stir in lemon extract. In another large bowl, combine flour, baking powder & salt; sift to combine. Slowly add flour mixture to egg mixture and mix on low until well blended. Add dried fruit; stirring until well incorporated.
3. Line two 12-cup muffin pans with paper baking cups; spoon batter into cups- filling to almost the top of each cup. Bake for 45 to 50 minutes or until done. Do not over bake.
Premiums sponsored in partnership with Feedstuffs FoodLink.com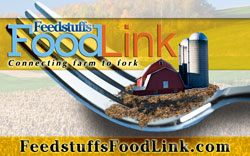 Pampered Chef is sponsoring additional prizes for our winners