Greater Midwest Foodways Alliance
FAMILY HEIRLOOM RECIPES
Missouri State Fair
August 13, 2016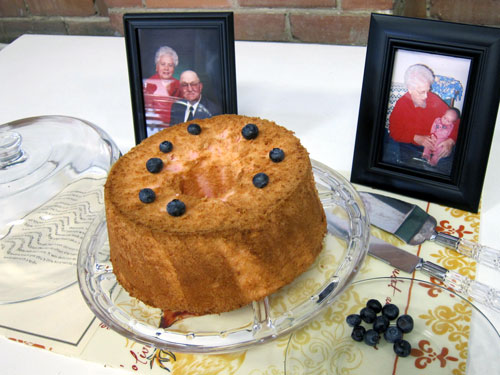 (Image by Peter Engler)
Third Prize:
Pink Angel Food Cake
Stephanie Reed, Missouri
It Must be Pink!
My grandparents lived on a farm in rural Chillicothe. My Grandma Jody worked hard on the farm caring for animals and tending a large garden and orchard.
Her favorite animals though were the chickens. She even had rooster decor in her kitchen. Despite selling eggs to her neighbors and family, she had plenty of extras. She would make fried eggs in the morning and her deviled eggs were a delight at lunchtime.
Being a child of the depression, she didn't dare waste an egg. In her kitchen, a pink angel food cake was always under her glass cake dome. Why pink? Grandma just liked it that way. I was a teenager before I realized that angel food cake is traditionally white.
My dad recalls that it was served frequently when he was a child. Grandma baked the cake so often she had the recipe memorized and it was perfection each time. It was delicious on its own but sometimes Grandma would give you a little bit of vanilla ice cream in which she would slice with a knife.
Third Prize:
Pink Angel Food Cake
Stephanie Reed, Missouri
1 cup cake flour
1 1/2 cup granulated sugar
1 3/4 cups egg whites
1 teaspoon cream of tartar
1/4 teaspoon salt
1 1/2 teaspoon vanilla extract
2 drops of red food color
Preheat oven to 325 degrees.
Beat egg whites until starting to break up. Add cream of tartar and salt. Beat until whites are frothy. Add sugar. Beat until soft peaks form. Add vanilla and food color.
Fold in flour and place in tube pan. Tap on counter a few times.
Bake until golden brown about 50-60 minutes.
Let cool and then enjoy!
YIELD OF RECIPE 1 cake