Greater Midwest Foodways Alliance
FAMILY HEIRLOOM RECIPES
2015: Family Favorites Never Served to Guest 
(or whatever you want)
Missouri State Fair
August 15, 2015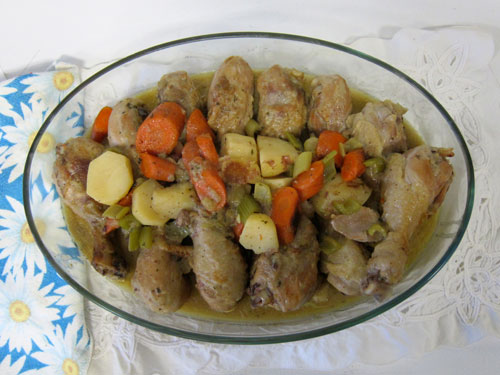 (Image by Peter Engler)
Third Prize:
Friccasee Chicken with Thimble biscuits
Carol Brewer, Harrisonville, Missouri
This recipe came from my late husbands great aunt Pauline McDonald.  She cooked for everyone in the family and often the preacher, came a number of times the chicken dish began to be called the preachers chicken.  At one point she had a number of grandsons attending class at O.U. in Okla City.  These boys always felt free to bring friends home on the week-end.  The story goes that one week the boys kept telling her how important these boys were cause they played on the football team.  I'm sure she said these boys still eat chicken.  Before getting an answer she then said.  I feel sure that since its good enough for Gods men it will be good enough for these boys.  Nothing more was said about the foot ball players.
Aunt Pauline came from Big Spring, Texas, but after living several long years in Southern Oklahoma.  After her marriage, she became the Okie of them all.  She was a great cook and a sharp wit.  I was proud to have known her.
Third Prize:
Friccasee Chicken with Thimble biscuits
Carol Brewer, Harrisonville, Missouri
1-whole frying chicken, cleaned & cut in pieces – 2-c flour
2 c; cream, 4 tbsp oil – 2 tsp celery seed
6 to 8 very small potatoes – 2 c. sliced celery. 2 c. large chop carrots
salt and pepper to taste – 4 cup chicken boillioon
Biscuits (sprinkle tops of biscuits with garlic powder, parmesan cheese when putting in oven)
3 c. all purpose flour – 1/2c, shortening – 1 full c. milk
1-tso salt – 3 tbsp baking powder
Cut together flour & shortening till lumps about the size of peas form.  Stir in salt and baking powder.  Stir mil in till all dry mixture is moistened.  Pour out on well floured board and knead 10 or 12 times.  Roll out about 1/3 inch thick.  Cut out biscuits with smallest cutter about 1 1/2-2 inches. Bake in 425 degree preheated overn on a greased pan for 17 or 18 minutes.
Flour each piece of chicken after mixing salt, pepper and 1 tsp celery seed in flour.  Over med heat, heat hot oil and cook chicken until brown on all sides.  Place chicken on large plate and keep warm.  Drain oil, replace chicken in pan and pour broth over chicken pieces.  You may need to add a littler water to make sure all chicken is covered.  Simmer chicken in broth till cooked all the way through & tender.  Now place chicken in plate and set aside.  Take about 2/3 c of flour left form dredging chicken mix well with cream till a smooth slurry.  Stir into broth and heat & stir till thickened and free from lumps.  Place celery, carrots & small potatoes in broth.  Cook till beggies are tender crisp.  At the point, return chicken to thickened broth.  Adjust mixture for salt & pepper & add remaining celery seed.
Serve hot with tiny biscuits.
Serves 8-10 people generously.