Greater Midwest Foodways Alliance
FAMILY HEIRLOOM RECIPES
Picnics and Family Reunions
Missouri State Fair
August 9, 2014
Third Prize Winner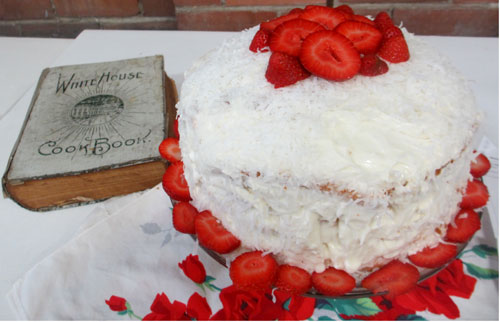 (Image by Catherine Lambrecht)
Third Prize:
Mom's Coconut Cake
Maxine Griggs, Sedalia, MO
My story begins when I was six years old, at the side of my great Mother!  My Mom could not read or write, so as I grew older I began reading recipes to her.  Mom, was a lady & Mother of 12 children. She observed birthdays with the birthday of my Dad, who loved the new way of making a cake.  So she chose a coconut white cake.  Since it the month of my birthday August.  I celebrate it with Mom & Dean all of the same month.  Reading to Mom from this book, given by a lady named Sue!  It is my pleasure to share my birthday with Mom & Dad & the knowledge this boo who is quite old like me.  89 years 14th day of August.
Third Prize:
Mom's Coconut Cake
Maxine Griggs, Sedalia, MO
2/3 c butter
1-1/2 c sugar
2/3 c milk
2-1/4 c cake flour
1 tsp BP (baking powder)
1 tsp salt
4 eggs
1 tsp lemon juice
1 tsp vanilla
Mix butter & sugar until it is creamy.
Add milk & beat slowly.  Add all dry ingredients.  Mix.  Add eggs one at a time.  Add lemon juice & vanilla.  Makes 2 9″ floured cake pan's – bake 350 degrees until touch springs back.
I double this recipe for 10″ pan's.
Ice with Philedelphia cream cheese, powered sugar & whipping cream – Put coconut on top & your choice of whatever in between layers.