Greater Midwest Foodways Alliance
FAMILY HEIRLOOM RECIPES
Indiana State Fair
August 11, 2016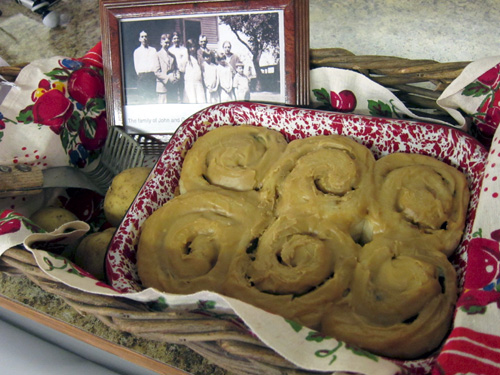 (Image by Peter Engler)
Third Prize:
Grandma Emmert's Mashed Potato Cinnamon Rolls
Kenda Friend, Indianapolis, Indiana
When my great-grandmother Grace Plank married my great-grandfather, John Emmert, on March 17, 1907, she reluctantly gave up her teaching career at a country school in LaGrange County. In the ensuing years she gave birth to seven children, four sons and three daughters, two of whom were twins. Yes, Grace became a very busy woman, her teaching days behind her. Much later, after the children were gone from home, she fulfilled her love for books by becoming the town librarian in Topeka, Indiana, where she lived in her retirement years.
Even though she did a great deal of it, cooking and baking were not Grandma Grace's greatest joy or achievement. She actually preferred needlework and cleaning! At any rate, she did have some culinary specialties which have been passed down for over one hundred years now. My mother (her granddaughter) especially remembers the pinwheel date cookies Grace made at Christmas time, and my grandfather was partial to her mashed potato rolls. That's what I am presenting today — in their sweet variety, though this recipe was also used for dinner rolls.
The Emmerts have always been avid gardeners, and potatoes and corn were the major garden crops for John and Grace. My grandfather, Arthur Emmert, third son of John and Grace before the girls came along, learned to love potatoes when he was a boy and always raised lots of them in the family truck patch. I'm sure he enjoyed them in any form, Grandma's rolls as well. And it must have been quite a trick for Grace to have "leftover" mashed potatoes to make the rolls, since she had to make so many potatoes to begin with for the family of nine — and undoubtedly she made a double batch of rolls as well!
Concerning other ingredients, of course the family would have had lard from hog butchering, and they also has their own milk, eggs, and butter. Grandma Grace was very stingy with her butter, however, because she could sell it in Topeka for at least forty-five cents a pound.
At any rate, here is her old recipe which my mother and her sister, both now in their 80's, have resurrected for me. How fitting to celebrate this century-old recipe at Indiana's Bicentennial!
Third Prize:
Grandma Emmert's Mashed Potato Cinnamon Rolls
Kenda Friend, Indianapolis, Indiana
1 1/2 cups warm water
2 cakes compressed yeast
2/3 cup sugar
2 teaspoons salt
2/3 cup melted lard
2 eggs
1 cup warmed-up leftover mashed potatoes
7-71/2 cups flour
1/2 cup melted butter
1 cup brown sugar
Cinnamon (Grandma just sprinkled it on generously)
1 cup nuts or raisins (I used raisins.)
Dissolve yeast in water in large mixing bowl. (It dissolves faster if you put a little of the sugar in the water with the yeast.) Stir in (remember, Grandma didn't have an electric mixer with dough hooks!) sugar, salt, and lard. Beat it up well then add the eggs and mashed potatoes.
Mix in flour until the dough is easy to handle. Knead until smooth and elastic. Put in a large greased bowl. Cover with a damp cloth and let rise until double in size. (Time would vary according to the weather and whether or not the wood stove in the kitchen was heated at the time.) For my baking, it was about 1 1/2 hours.
Dump dough onto floured surface and roll out to about a quarter inch thick. Spread with melted butter, sprinkle with brown sugar, cinnamon, and raisins. Roll up tightly and cut into 24 rolls. Put them in greased baking pans with sides just touching, and cover and let rise again for about 45 minutes.
Bake at 375 degrees for 12-15 minutes. Cool as long as you can keep the children out of them, then ice with brown sugar frosting.
Brown Sugar Frosting:
1 cup brown sugar
1/2 cup butter
1/4 cup milk
2 cups powdered sugar
Heat brown sugar and butter together in heavy pan over medium heat until well combined. Pour in milk and bring to a boil. Remove pan and cool slightly.
Put powdered sugar in mixing bowl and pour cooked mixture into it; beat with wooden spoon until smooth. Frost immediately because frosting will harden.