Greater Midwest Foodways Alliance
FAMILY HEIRLOOM RECIPES
Indiana State Fair
August 9, 2013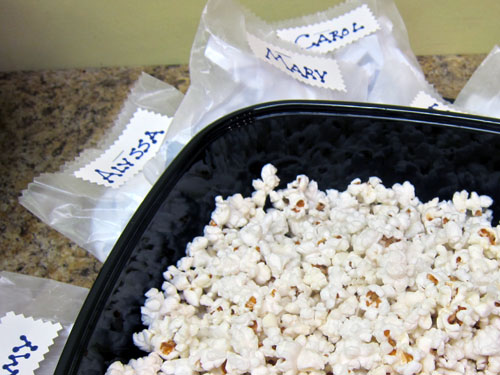 (Image by Peter Engler)
Third Prize:
P O P C O R N
Eileen P. Beyer, Shelbyville, Indiana
I was very elated earlier in the year when I learned the theme of this year's Indiana State Fair would be POPCORN, as it has to be one of my all time favorite things to make as well as eat, often consuming it as my entire meal. I'm not talking about the kind of popcorn you find neatly folded up in a cellophane bag that can only be fixed in that metal box on your countertop. I mean the old fashioned kind, the real kind, the kind that acts like a small volcano erupting on your stove top as each kernel reaches the perfect temperature and explodes only to be confronted by the pan's lid as it encounters the metal as if it were a knight's shining armor. POPPED CORN – the sound, the smell, the taste – there is really and truly nothing that envelops all of the senses like freshly popped corn.
I am certain my mother learned the art of making popped corn from her mother in the 40's during World War II. It was an economical, as well as, a healthy snack way back then as it is now. As a child in my rather large family, we enjoyed popcorn each week whether it was eaten as a snack or packed along with our peanut butter sandwich school lunches. My mother would usually pop it on a Sunday night as we sat in our television-less living room to discuss the day's events and the coming week's activities. I have vivid memories of her standing at the stove, heating up the shortening, placing 3 kernels in the pan, waiting until they popped to add the remainder, and then shaking that large heavy aluminum pan back and forth over the burner until just a few kernels remained and the time between each of the pops lasted longer and longer, being assured when the lid was finally removed, a mound of white fluffy popped corn would be exposed. She would always serve the popcorn in waxed bags which ensured each of us children received an equal amount and also meant no extra dishes to wash except for the pan in which it was popped.
The tradition of popping corn on the stove top must have become a lost art in our rather hurried lives along with hanging clothes on a clothesline or ironing pillowcases. My assuredness is due to the fact that on several occasions, I have had people in my kitchen questioning me as I begin to pop a pan of corn. I have even had some teenagers in my house say, "Why doesn't your mom just use the microwave?" And then they taste the stove top version and never ask the question a second time.
Although I grew up in the Midwest, I did not move to Indiana, which is one of the largest producers of popcorn in the country, until I was in the 4th grade. I have continued the corn popping tradition through out the years. Just the act of popping the corn brings to mind all sorts of wonderful memories. Although my mother's recipe included shortening instead of canola oil (who ever heard of canola oil back then?) and always table salt and not the finely ground popcorn salt I now use, it is the only corn that I make to this day. It's the kind that I am always asked to bring to office pitch-ins; the kind that I sent with my 3 children when they went off to college, the kind that I take to a friend who is leaving on a long flight; the kind I bring to a neighbor who is getting ready for a family vacation, even the kind I have sent to my daughter's fiance who was deployed while serving in the Air Force, and it's always the kind enjoyed by my family in my own living room on a hot summer's evening or a cold winter's night. Whether the popcorn is laced with real melted butter and finely ground salt as I make it today or just hot off the stove without a thing-it's truly a delight for the senses … all of them!
Third Prize:
P O P C O R N
Eileen P. Beyer, Shelbyville, Indiana
My Mother's Recipe
Ingredients
3/4 cup solid shortening
3/4 cup popcorn kernels (any kind that happened to be available)
table salt to taste
Directions
Melt solid shortening in large heavy Dutch oven over medium heat. Add 3 kernels of corn. After these have popped (I don't think my mother ever removed these as I do today) add the remainder of the corn and place lid on pan. Shake pan back and forth over burner. Continue to pop until you don't hear the kernels popping any more. Remove from heat and add salt to taste. Place in waxed bags to distribute and enjoy! (I could not find waxed bags at the store, so I made my own using waxed paper and double-sided tape.)
My Recipe
Ingredients
1/4 cup canola oil
1/2 cup popcorn kernels (white popcorn)
1/4 cup melted butter
popcorn salt to taste
Directions:
Heat oil in 4 quart heavy aluminum saucepan over medium heat. Place 2 kernels of corn in pan and cover with lid. After kernels pop, remove and discard. Add the remainder of the kernels to the pan and replace the lid. As the popcorn begins to pop and lifts the lid from the pan begin to empty the popped corn in a bowl. Return pan to the stove and continue to pop until about 30 seconds remain in between pops. (I have an old gas stove and do not shake the pan as my mother did on her electric stove.) Remove from heat and pour in a bowl. Melt butter in popcorn pan and pour over popcorn. Add salt to taste. Toss corn to coat popcorn evenly. Eat and enjoy!